Easy Air Fryer Four Cheese Ravioli
Enjoy a simple and scrumptious dinner with Easy Air Fryer Four Cheese Ravioli. The air fryer gives fresh ravioli a delightful toastiness, perfect for dipping into marinara sauce. A quick and satisfying meal awaits!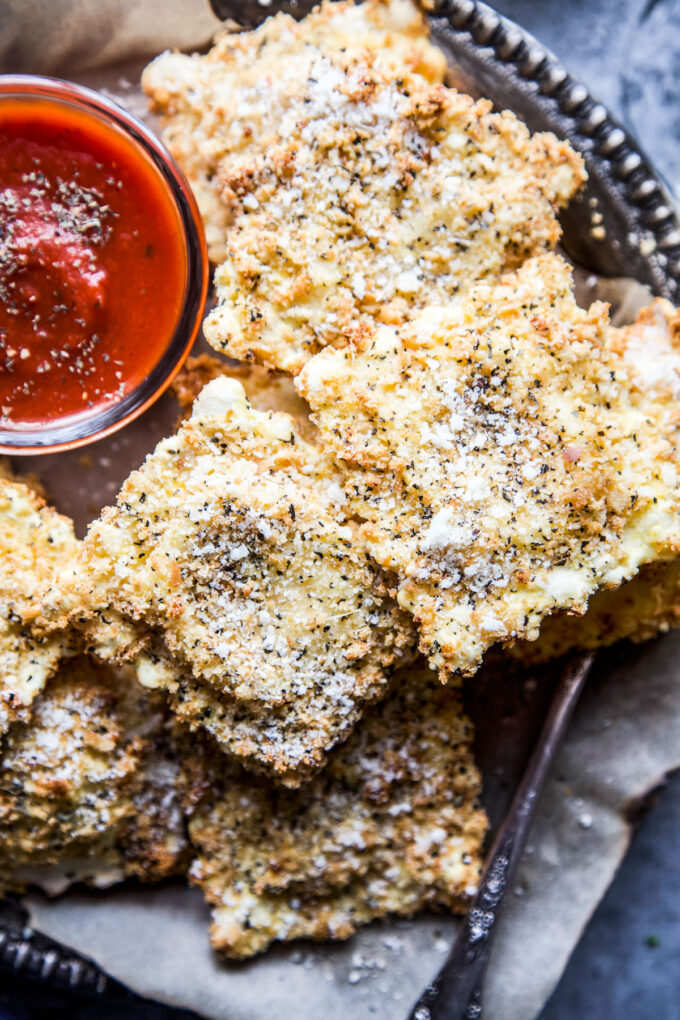 Back with another easy meal.
The best part?
It's healthy too! Okay, I guess I should say healthy-ish. These Easy Air Fryer Four Cheese Ravioli are an 11/10 situation.
Fresh ravioli get dipped into a light panko breading, gently fried, and then dipped into marinara. What's great about this meal besides the time it takes to make it is that you can change out the ingredients to make it the way you want it.
Want to add sausage to the ravioli? Do it! Want to add mushrooms to the marina sauce? Go for it. Want to add a copious amount of cheese to the panko breadcrumbs? You have my blessing.
Okay, I'm getting hungry so let's see what the fuss is about these Easy Air Fryer Four Cheese Ravioli.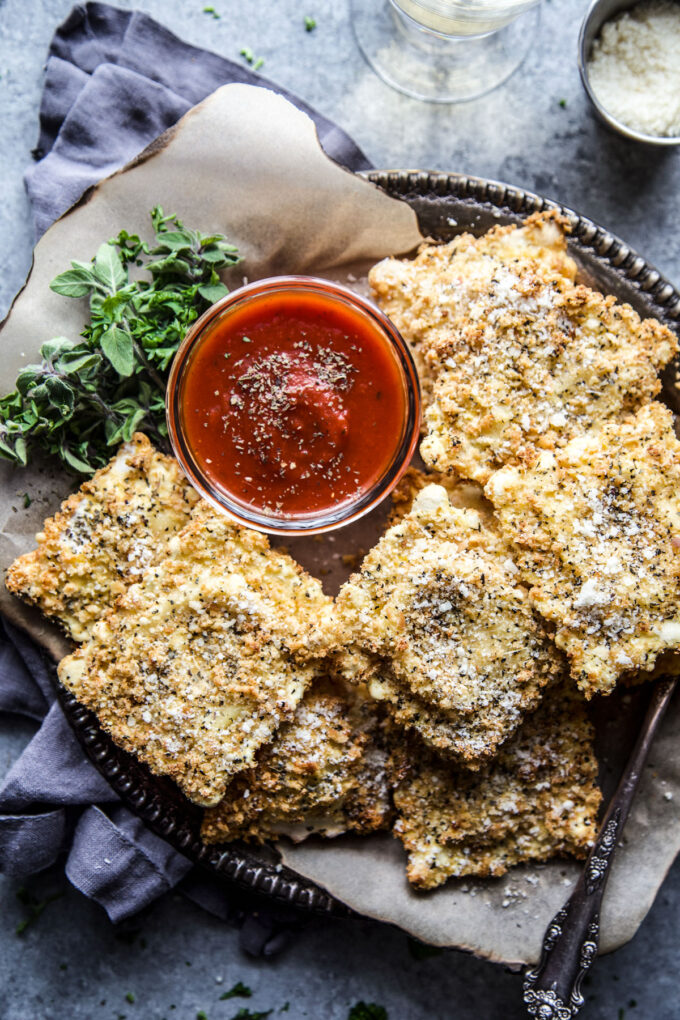 What's in these Easy Air Fryer Four Cheese Ravioli?
Simple meals are my jam. With these Easy Air Fryer Four Cheese Ravioli you can make a quick meal that tastes fancy and is healthy too!
For this recipe you will need:
Fresh Ravioli
Parmesan
Panko breadcrumbs
Dried basil
Eggs
All-purpose flour
Marinara sauce, for dipping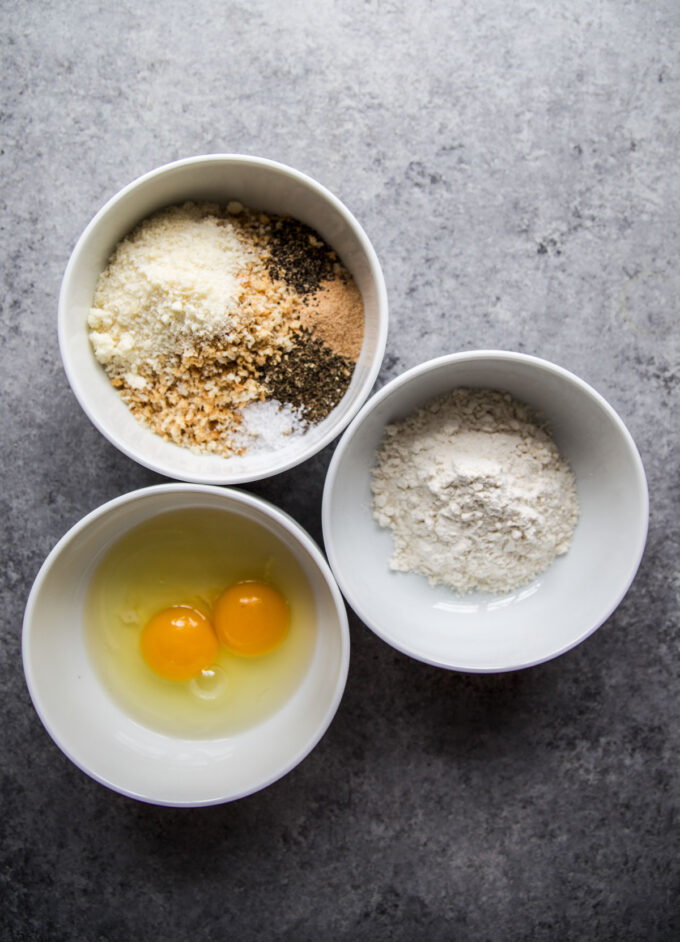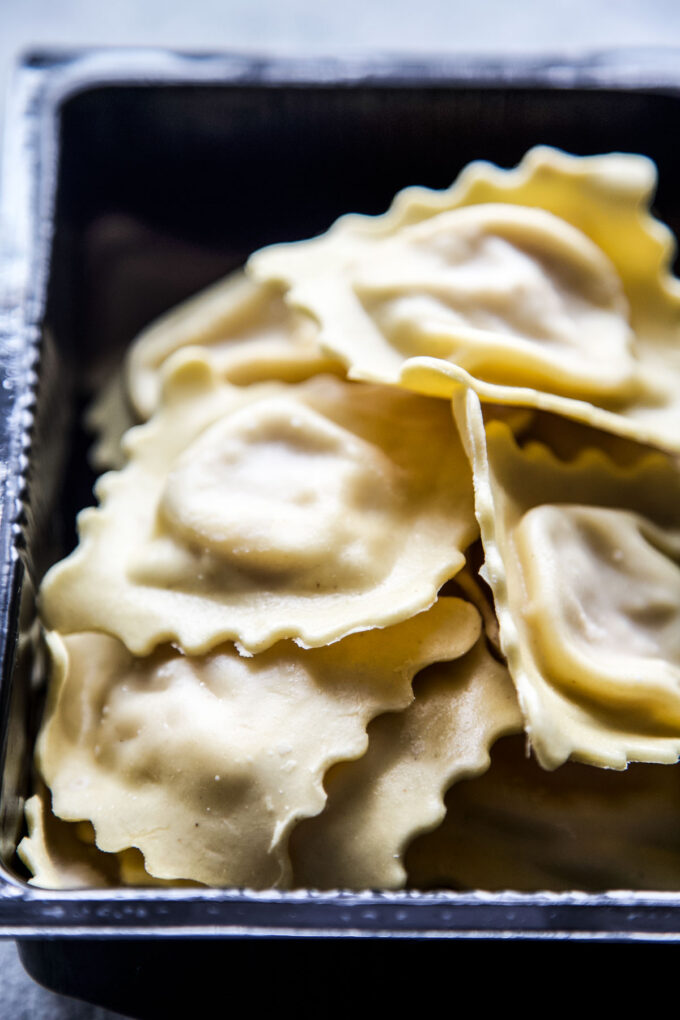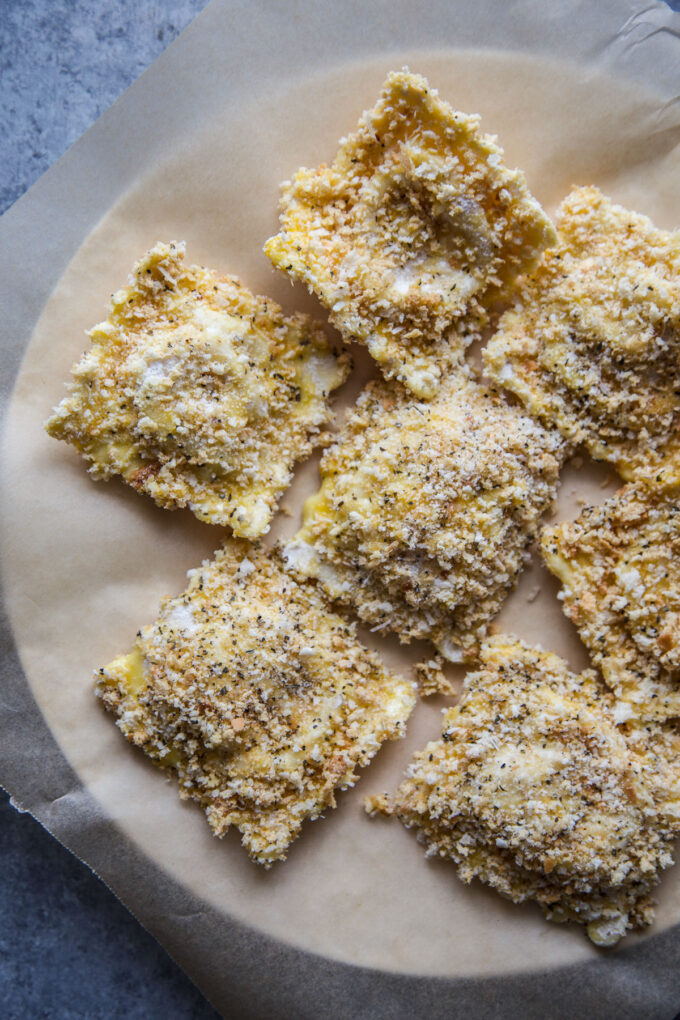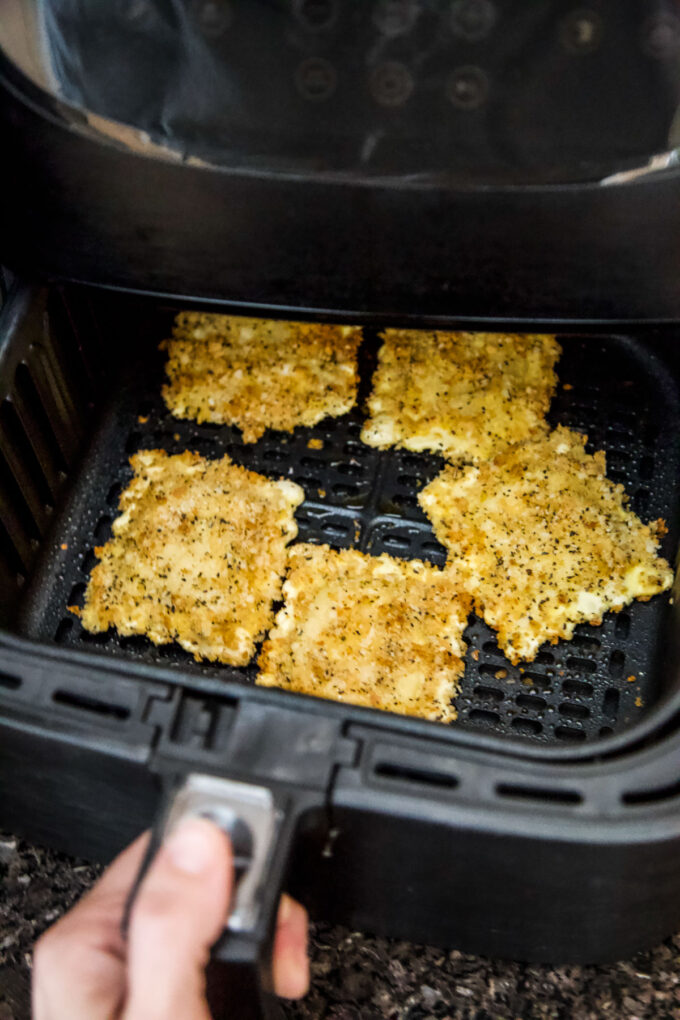 Tips for Making these Easy Air Fryer Four Cheese Ravioli:
Fresh Ravioli. A great shortcut for this meal is by using the packaged fresh ravioli from the grocery store. It's already cooked and ready to go. If you need to defrost some frozen ravioli from the freezer that will work too!
Panko breadcrumbs. I love using panko breadcrumbs because it keeps the coating nice and light. If you have regular breadcrumbs in your pantry those will work too!
Marinara. If you are a long time reader of this blog then you know I adore using Rao's homemade marinara. It's quick, delicious, and goes with just about everything. But! Again, use whatever kind of sauce you adore from the pantry. Um, queso would be a delicious option as well.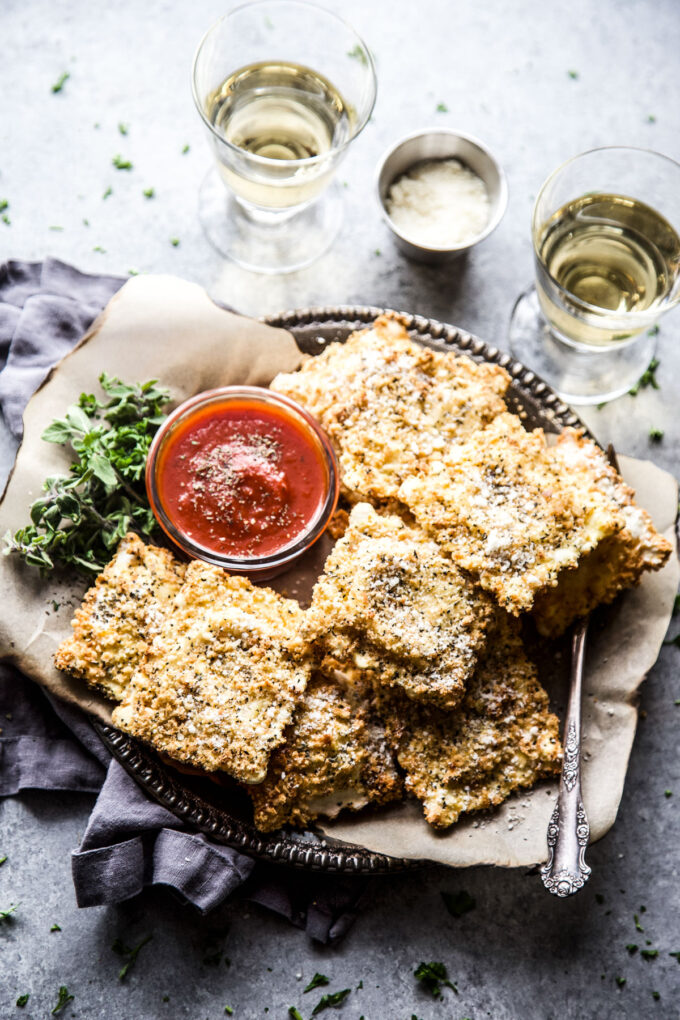 Frequently Asked Questions:
What's the best type of Air Fryer to use?
I LOVE my Corsei Air Fryer that comes with an XL basket. You can certainly use the standard size. However, the XL basket keeps you from having to do a lot of batches.
What kind of fresh ravioli do you recommend?
Honestly, any of the packaged fresh kinds you find at the grocery store will work. Again, keep in my mind you will air fry these so go with a brand you love!
What if I don't have an air fryer?
If you don't have an air fryer you can gently fry the ravioli in a hot skillet or bake them in the oven!
Can I substitute the cheese ravioli with a protein based ravioli?
You bet! A sausage ravioli would be equally as delicious!
More Easy Healthy-ish Dinners to Enjoy: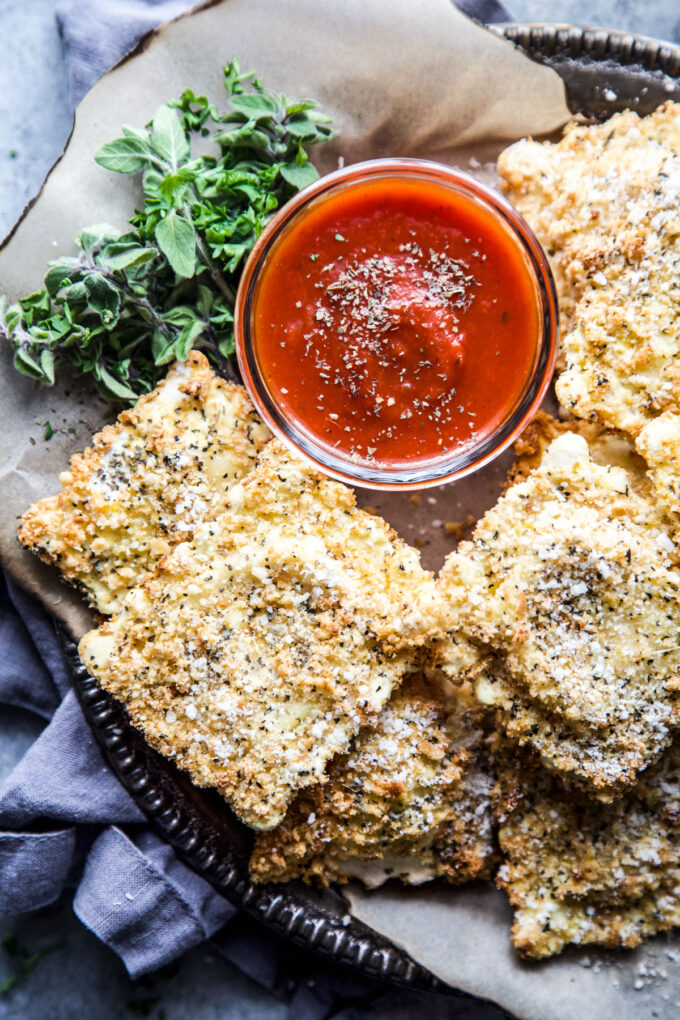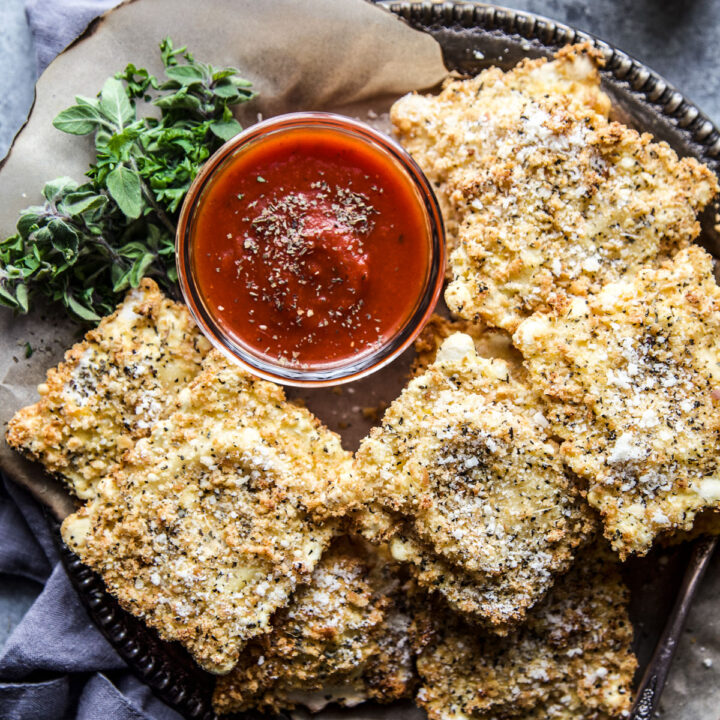 Easy Air Fryer Four Cheese Ravioli
Easy Air Fryer Four Cheese Ravioli is a delicious and easy meal to make in the air fryer! Fresh ravioli gets lightly toasted in the air fryer and then dipped into marinara sauce for the ultimate dinner! 
Ingredients
1 cup Panko breadcrumbs
1/4 cup Finely grated Parmesan cheese
2 tsp Dried basil
1/2 tsp Garlic powder
1/2 tsp Onion powder
1/2 cup All-purpose flour
2 large Eggs, whisked
1 9 oz pkg Fresh cheesy Ravioli
1 cup Favorite marinara, for dipping
salt and pepper to taste
Instructions
Preheat your air fryer to 350°. In a shallow mixing bowl, combine panko bread crumbs, Parmesan cheese, dried basil, garlic powder, onion powder, salt, and pepper. Place the all-purpose flour and eggs in separate shallow bowls.

Dip each ravioli in the flour to coat both sides; shake off any excess. Dip the ravioli into the eggs, then into the panko breadcrumb mixture, patting to help coating adhere. In batches, arrange ravioli in a single layer on greased tray in air-fryer basket; spray the top with with non-stick cooking spray.

Cook until golden brown, 3-4 minutes. Turn; spray with non-cook cooking spray. Cook until golden brown, 3-4 minutes longer.

If desired, immediately sprinkle with basil and additional Parmesan cheese. Serve warm with marinara sauce.
Did you make this recipe?
Please leave a comment below and share a photo on Instagram with the hashtag #thecuriousplate!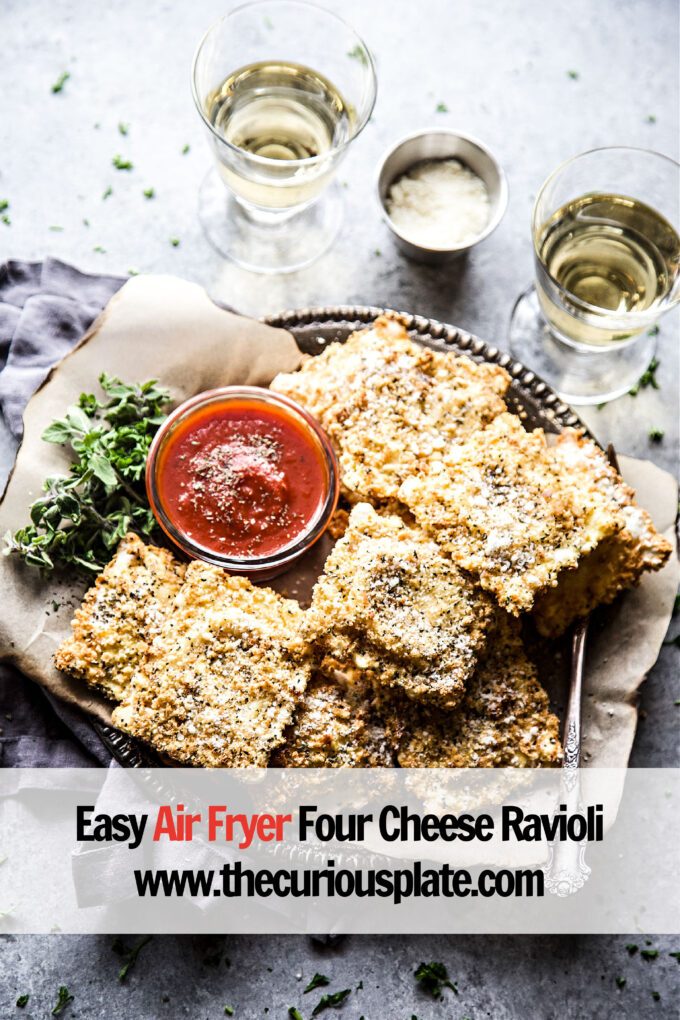 In conclusion, Air Fryer Four Cheese Ravioli offers a hassle-free and delicious dinner option, with fresh ravioli toasted to perfection in the air fryer and served with delectable marinara sauce.