Sloppy Joe Style Ground Turkey Casserole
This sloppy joe style ground turkey casserole is a delicious twist on the classic turkey sloppy joe. Made in just one skillet, it's an easy, cheesy, and surprisingly healthy meal. Ready in 30 minutes, this will be one of your favorite casseroles with ground turkey.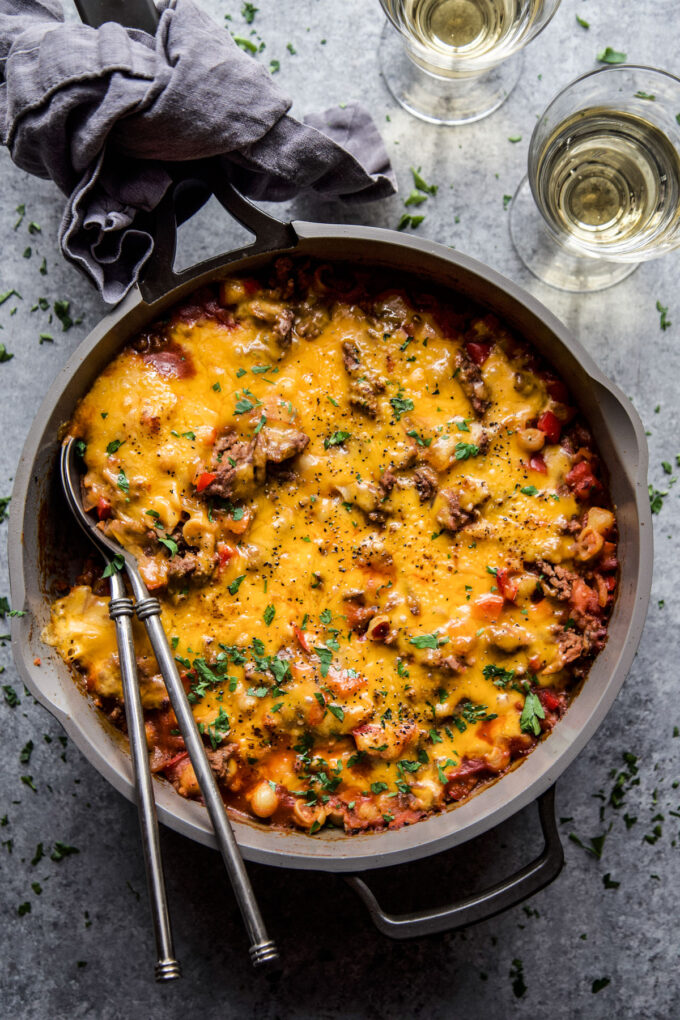 Sloppy Joe Style Ground Turkey Casserole:
Sloppy Joes Made Healthy
Sloppy Joes were a staple in my childhood years. We had them for dinner at home or for lunch at school.
Something about ground beef tossed with tomatoes and spices, piled high on a hamburger bun just makes life taste so good!
This ground turkey sloppy joe casserole is not to be missed. The dish includes all the usual ingredients one might find in a sloppy joe and a casserole in a one-skillet dish, plus a surprise!
I decided to add cauliflower rice to the mixture to sneak in some veggies for yours truly and my crazy toddler.
You can certainly omit the veggies, but it won't be as much of a healthy ground turkey casserole recipe without it. I promise with all the flavor and spice in the turkey mixture you will never know it's there!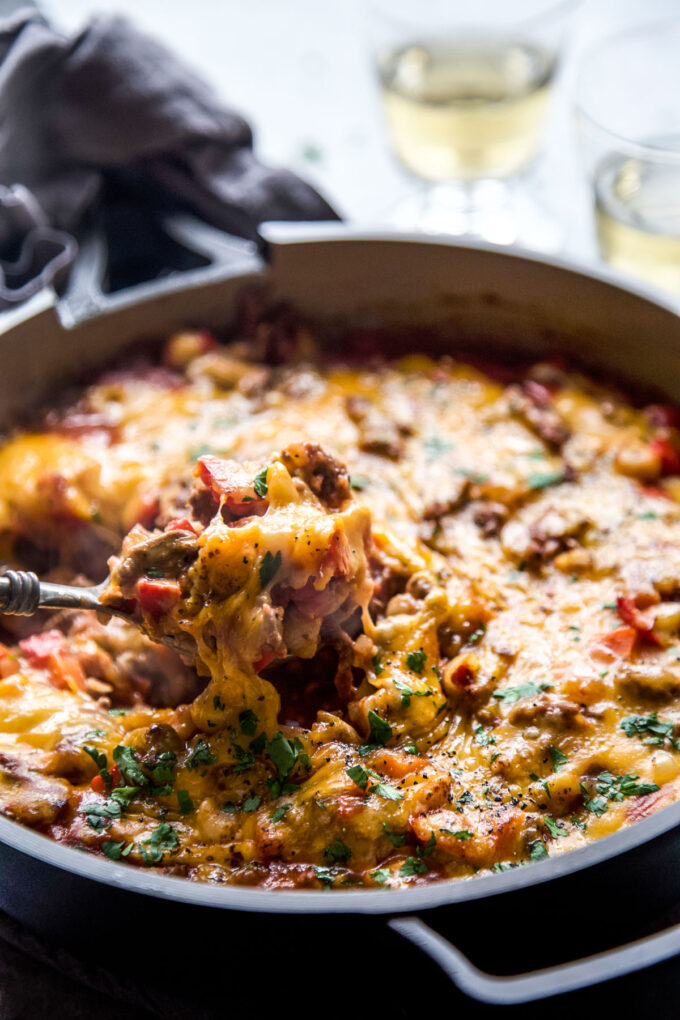 What Ingredients Are In Ground Turkey Casseroles?
Nothing screams comfort food like a cheesy casserole with ground turkey. We grew up eating casseroles a lot living in the Midwest.
I love this twist on the classic turkey sloppy joe recipe because it gives this mama a chance to sneak in veggies. It still tastes like the tried-and-true sloppy joes with turkey, just extra cheesy.
For this recipe you will need:
Ground turkey
Green pepper
Yellow onion
Carrot
Tomato sauce
Cauliflower rice
Pasta
Dry mustard
Garlic
Worcestershire sauce
Cheddar cheese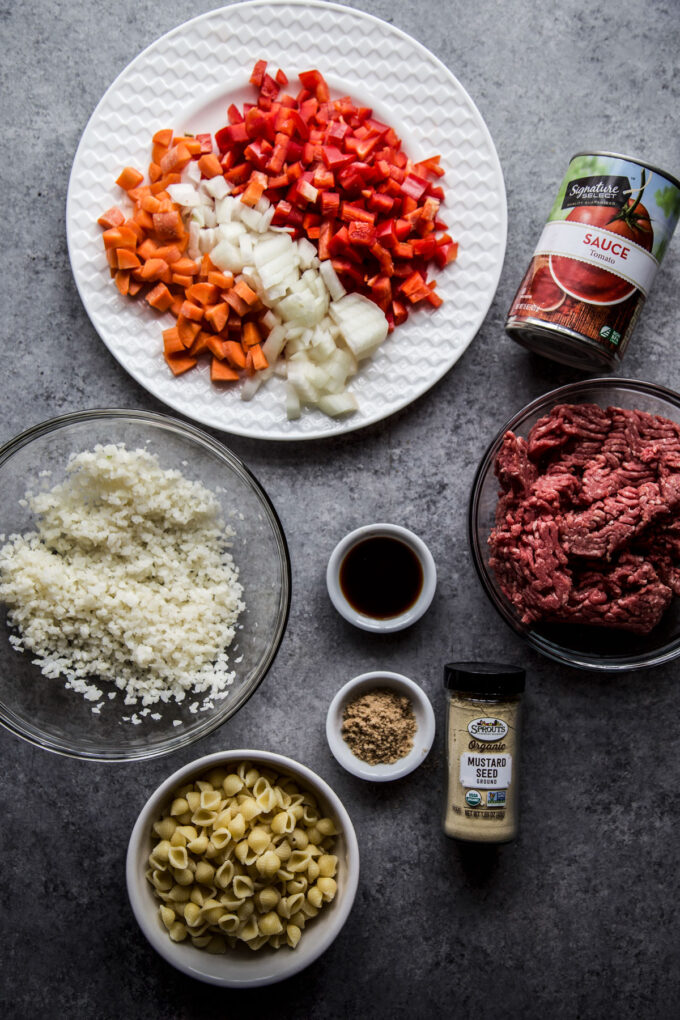 Tips For Making Turkey Sloppy Joe Casserole
I like to mix up my protein options and use ground turkey. A classic sloppy joe is made with ground beef, but I'm keeping things light by using ground turkey instead.

You could also use ground pork, chicken, or a plant-based protein.

Cauliflower rice. If you are using cauliflower rice, purchase the frozen kind from the grocery store. It's such a breeze to make and is far easier than making from scratch.

If you want to swap out for a different kind of veggie you can certainly do that too!

Pasta. If you want to keep this easy ground turkey casserole low-carb, you can certainly omit the pasta. BUT! If you choose to include pasta I recommend choosing a small pasta like elbows (you can use whatever kind of pasta you want!) to ensure everything fits in the skillet.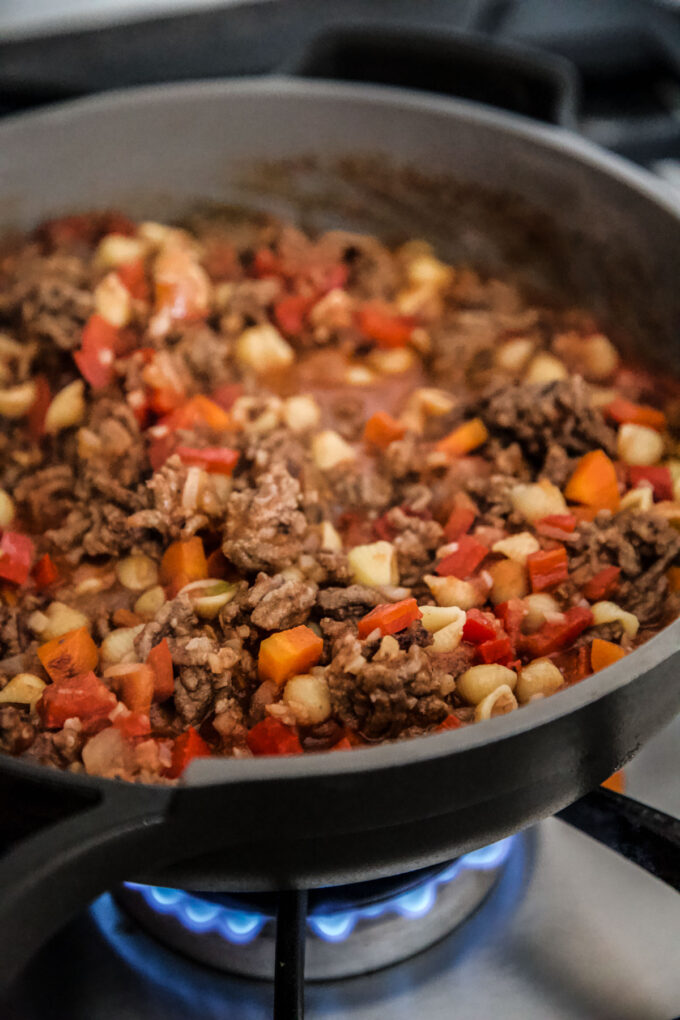 Frequently Asked Questions
How Far in Advance Can I Make This Recipe?
This casserole can be made a few days in advance. Honestly, it gets better the longer it sets in the fridge so it's the ideal dish for meal prepping!
Can I Freeze Turkey Sloppy Joes?
Yes! You can simply make the recipe as is, but make sure to cool it prior to adding it to a freezer-safe container. This recipe will keep up to one month in the freezer!
How to Reheat the Casserole
Can you reheat this casserole in the oven? Of course! If you're making this for a friend, or for any event where it will need to be reheated, I would cook the recipe all the way up until you add the cheese and place it in an oven.
Whenever you deliver the meal to a friend tell them to top the casserole with cheese and heat it up in the oven until warmed through.
If stored correctly, you can usually reheat a casserole multiple times in the oven and still have it taste great. Usually, you'll want to reheat the cheesy ground turkey casserole for 15 – 30 minutes at around 325 degrees, or until hot throughout.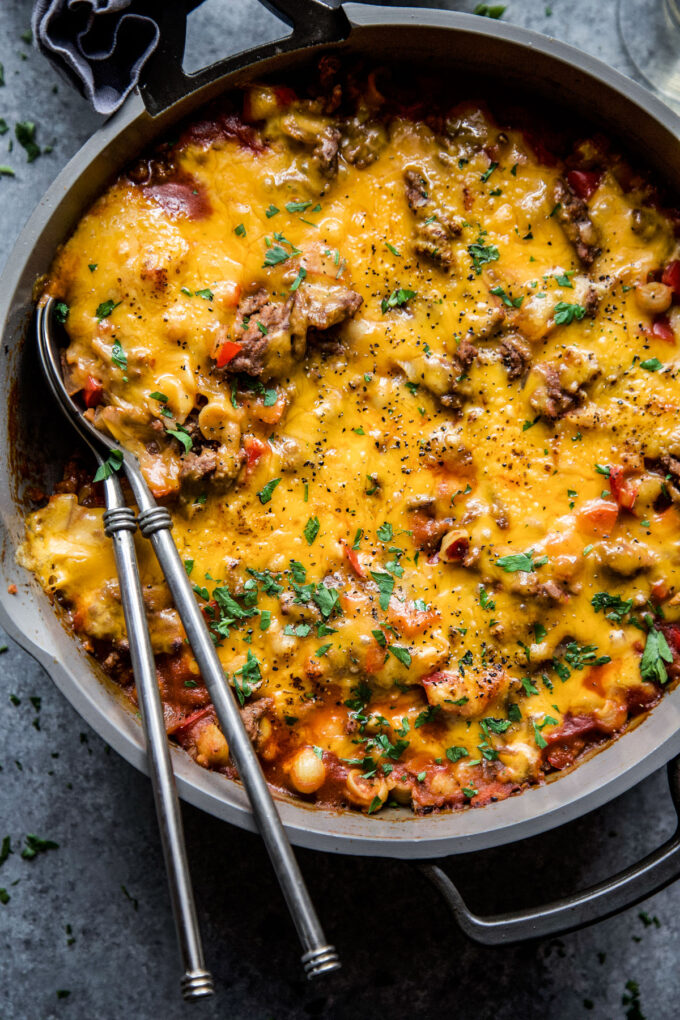 More Delicious Casserole Recipes to Enjoy: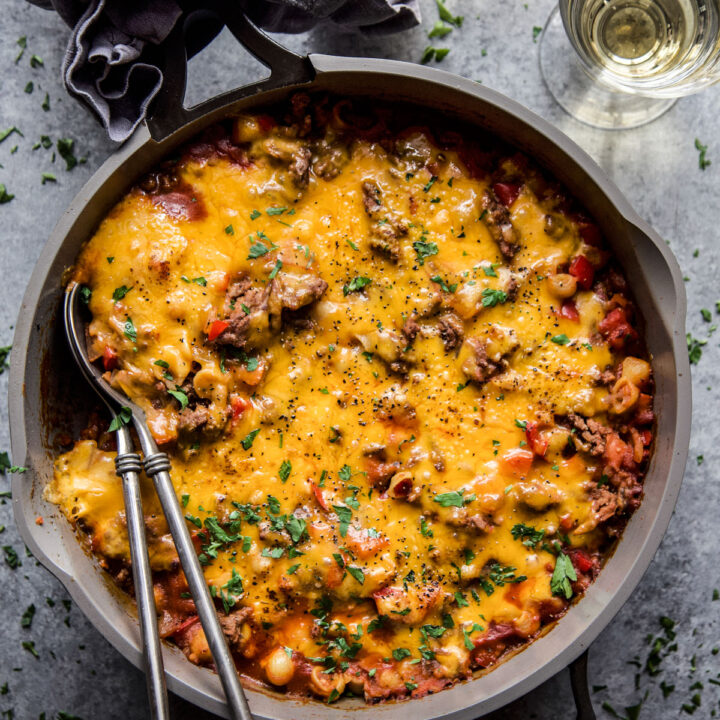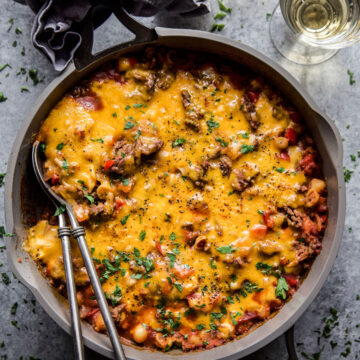 Turkey Sloppy Joe Casserole
Turkey Sloppy Joe Casserole is an easy and healthy meal made in one skillet! Ready in 30 minutes and is super flavorful! 
Ingredients
1 1/2 cups Elbow noodles (the smallest you can find)
1 tbsp Olive oil
1 lb Ground turkey
2 cups Cooked cauliflower rice
1 large Red bell pepper, chopped
1 cup Chopped yellow onion
1 cup Chopped carrots
4 cloves Garlic, minced
1 15oz Can of tomato sauce
1 1/2 tbsp Brown sugar
1 tbsp Worcestershire sauce
2 tsp Dry mustard
salt and pepper to taste
1 cup Shredded cheddar cheese
Instructions
Preheat your oven to 400 degrees F. Cook pasta according to package directions. Drain the pasta and set aside.

Meanwhile, heat olive oil in a 10-inch cast-iron skillet over high heat. Add the ground turkey; cook, until lightly browned, 4 to 5 minutes. 

Next, Add the cauliflower, bell peppers, onions, carrots and garlic; cook, stirring often, until the vegetables are softened, 5 to 7 minutes. 

Add the tomato sauce, brown sugar, Worcestershire, mustard, salt and pepper. Bring to a boil over medium-high heat. Reduce heat to medium; simmer, stirring occasionally, for 2 minutes.

Next, stir in the cooked elbow pasta into the turkey mixture; sprinkle evenly with cheese. Bake until the cheese is melted, 5 to 7 minutes. Serve and enjoy!
Did you make this recipe?
Please leave a comment below and share a photo on Instagram with the hashtag #thecuriousplate!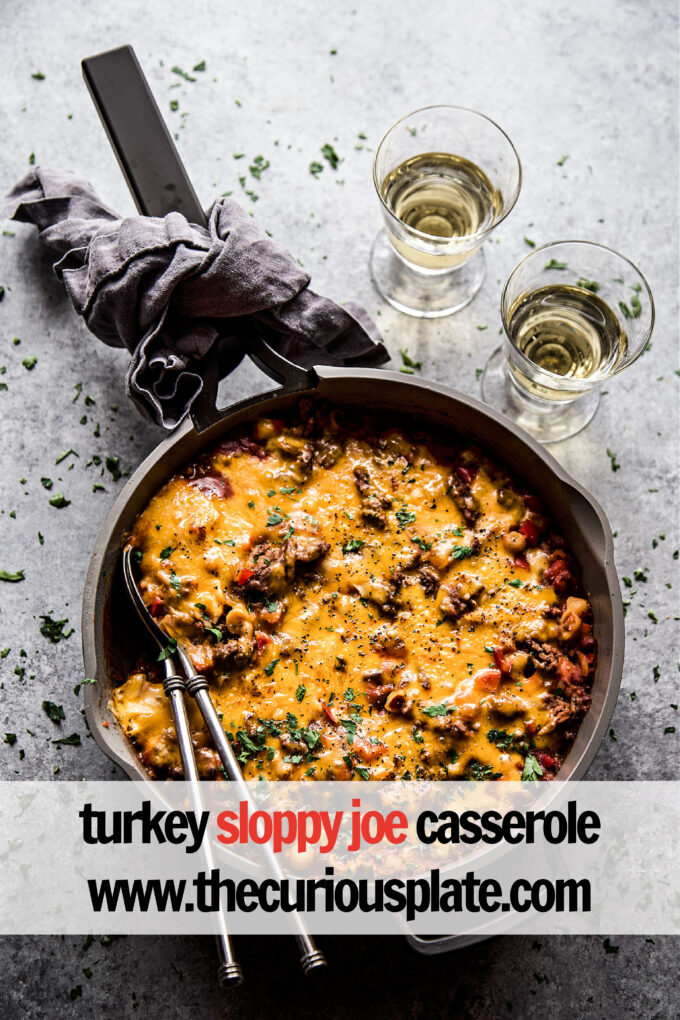 To sum it up, this one-skillet ground turkey casserole is a speedy, cheesy, and surprisingly healthy rendition of the classic sloppy joes. It's an effortlessly satisfying meal choice for any occasion.