Giant Skillet Cinnamon Roll
Giant Skillet Cinnamon Roll is a quick and delicious way to make one giant cinnamon roll! Perfect for breakfast, lunch, or dinner and topped with a vanilla frosting!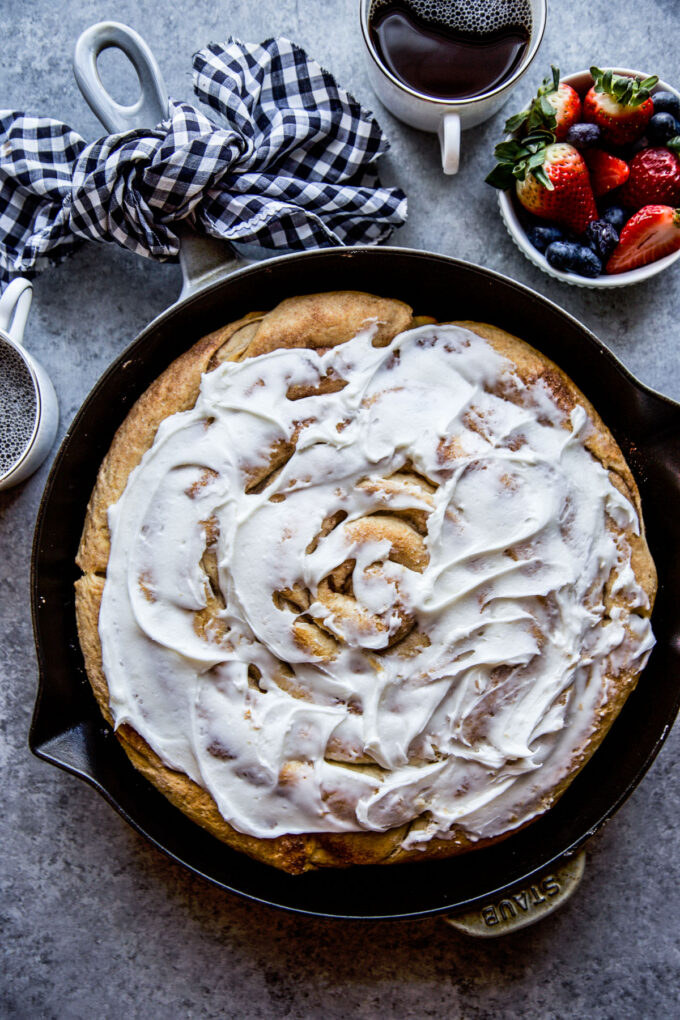 Cinnamon rolls give me life.
I grew up having cinnamon rolls every Christmas morning or on special occasions when my mom would make her famous chili.
It's the perfect pastry. Dense, chewy dough topped with vanilla frosting makes for a killer and decadent treat. Now, if you want the honest truth about cinnamon rolls. I do enjoy eating them. However, I don't envy the labor it takes to produce fluffy cinnamon rolls.
My answer to the dilemma: Giant Skillet Cinnamon Roll! I know!! How genius is this idea? Beautiful, buttery crescent dough gets rolled in cinnamon sugar, baked until golden brown, and then covered with a vanilla frosting. Are you in love yet?
Let's make this giant bad boy!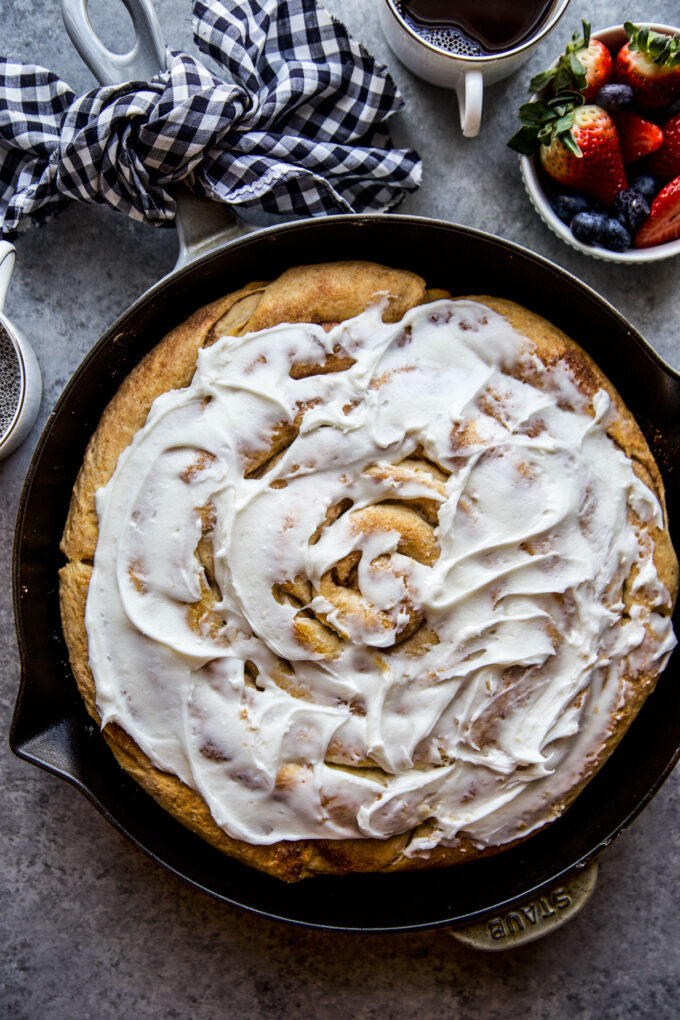 What's in this Giant Skillet Cinnamon Roll?
We all enjoy an individual sized cinnamon roll. It's one of my favorite things to eat on Christmas morning or when we are out to eat at brunch. Well, sometimes you just need a large amount of cinnamon to enjoy. Truth? Because why not!
For this giant cinnamon roll you will need:
Crescent dough sheets
Granulated sugar
Unsalted butter
Ground cinnamon
Cream cheese
Powdered sugar
Vanilla extract
Milk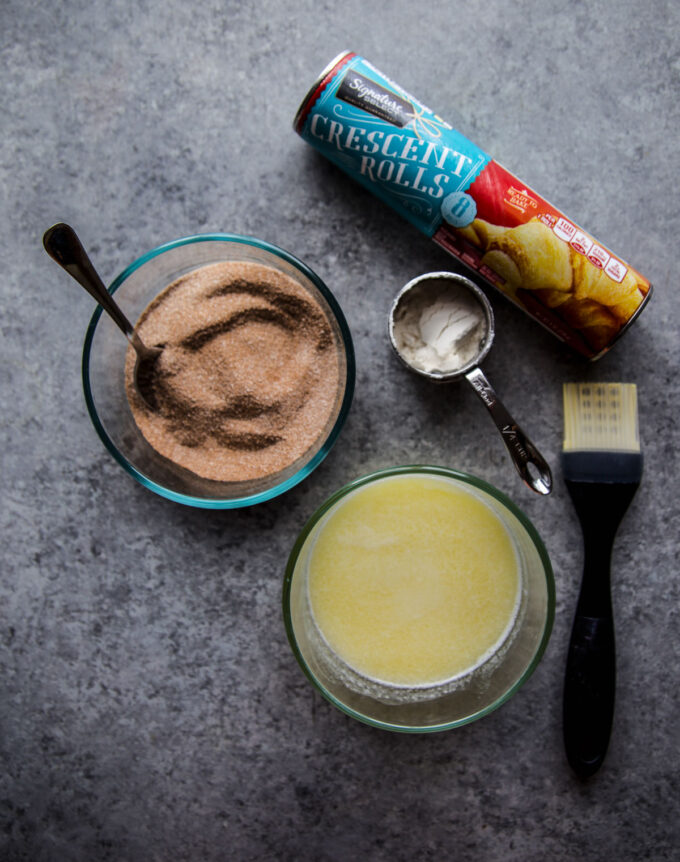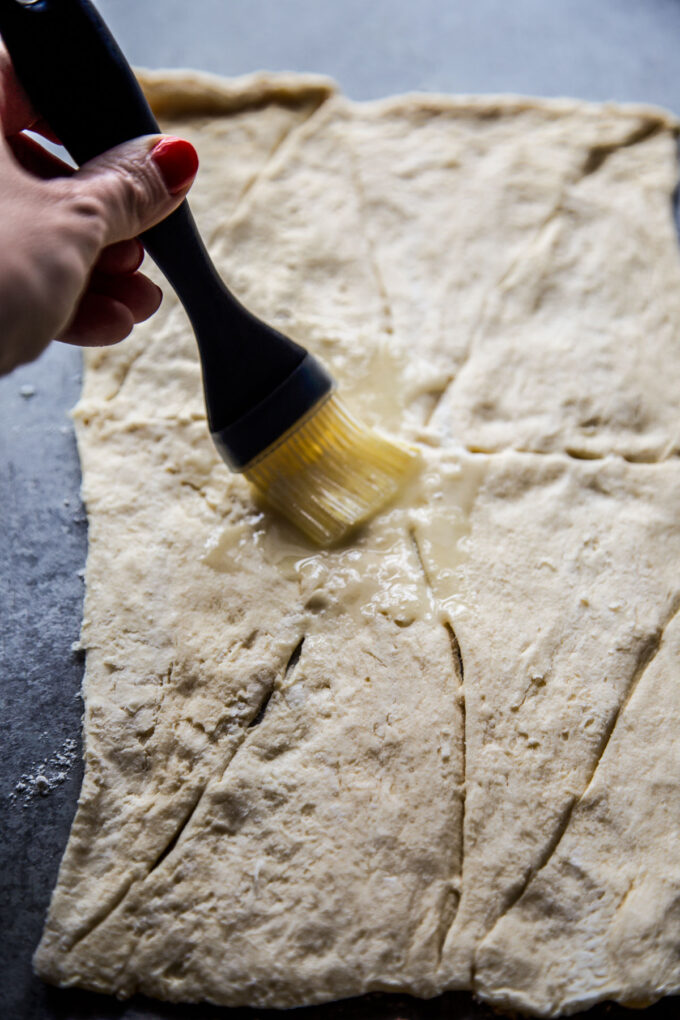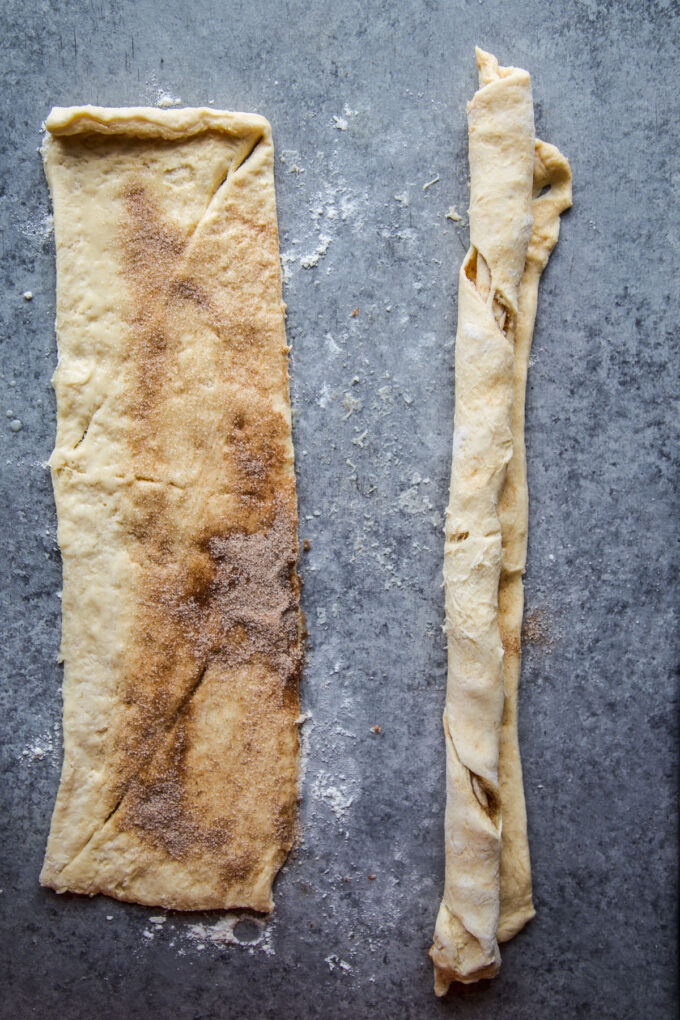 Tips for Making this Giant Skillet Cinnamon Roll:
Crescent dough. I know, I know, dough in a tube. BUT! If you want a giant cinnamon quick, fast, and in a hurry this is your safest bet. Now, by all means please make homemade cinnamon roll dough if you can. Nothing beats it and you have my full support.
Skillet. If you have an 8-inch non-stick skillet that would be ideal. However, if you have a standard 10-inch skillet you will likely need an extra tube of crescent dough.
Rolling. To make things easier when assembling the cinnamon roll I would make sure to have all the dough lines ready to go and then make the spiral.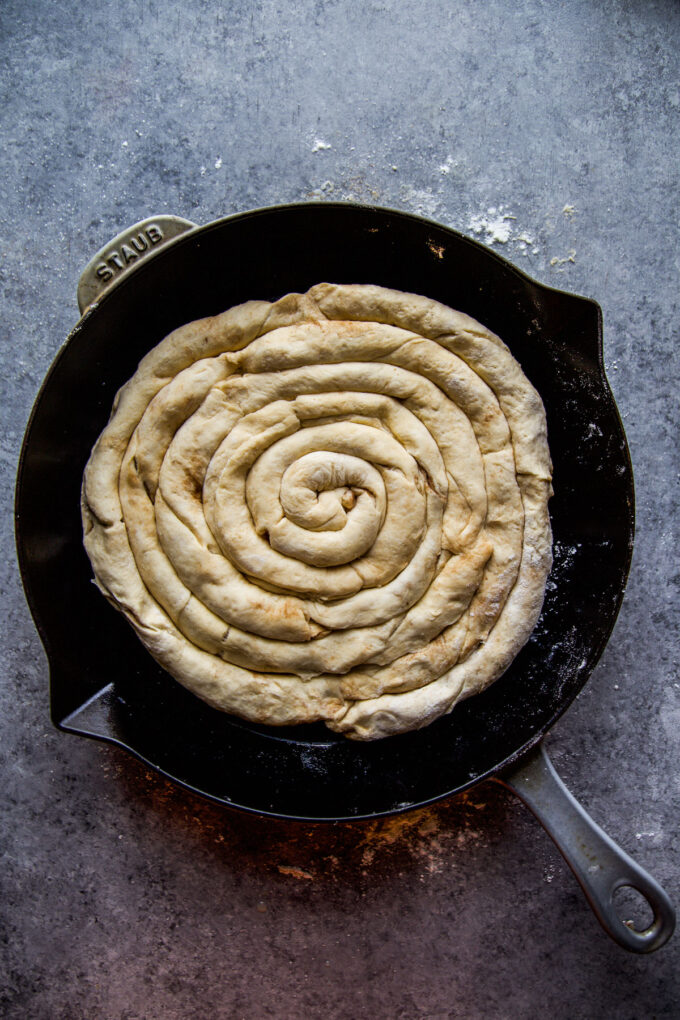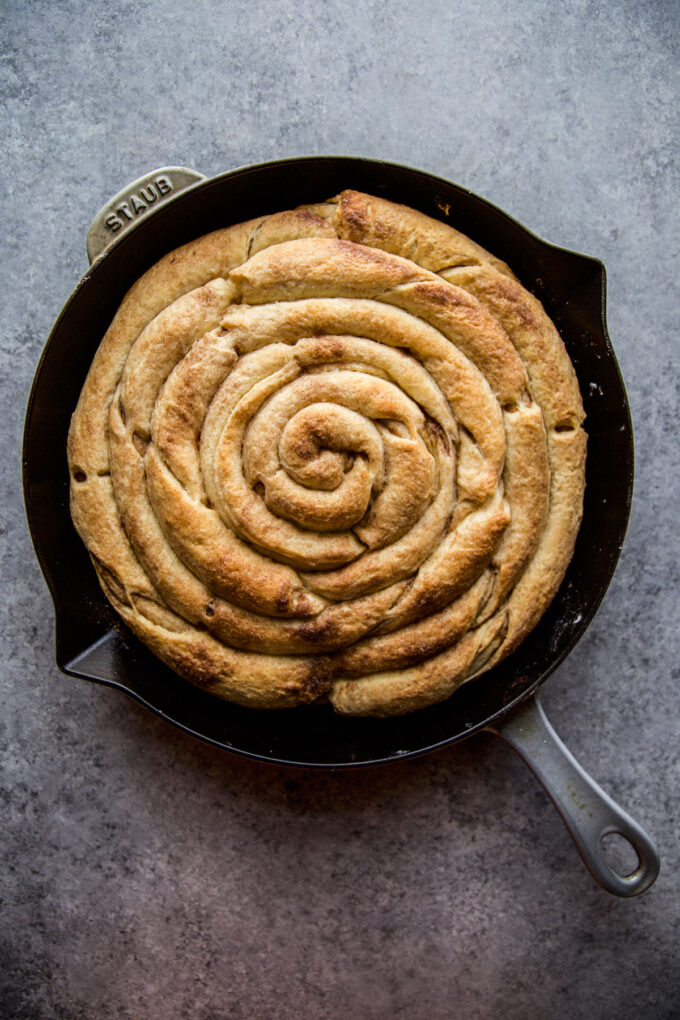 Frequently Asked Questions:
Can I make this Giant Skillet Cinnamon Roll ahead of time?
You bet! I would assemble everything the night before, cover with plastic wrap, and bake it off in the morning. You can even make the frosting ahead, but just make sure it comes to room temperature first.
What happens if it starts to burn on the top while in the oven?
If you see the cinnamon starting to brown and it's not done cooking, gently tent the skillet with foil to prevent excess browning.
Can I freeze this Giant Skillet Cinnamon Roll?
Yes! Simply make the giant cinnamon roll, freeze, and reheat as needed.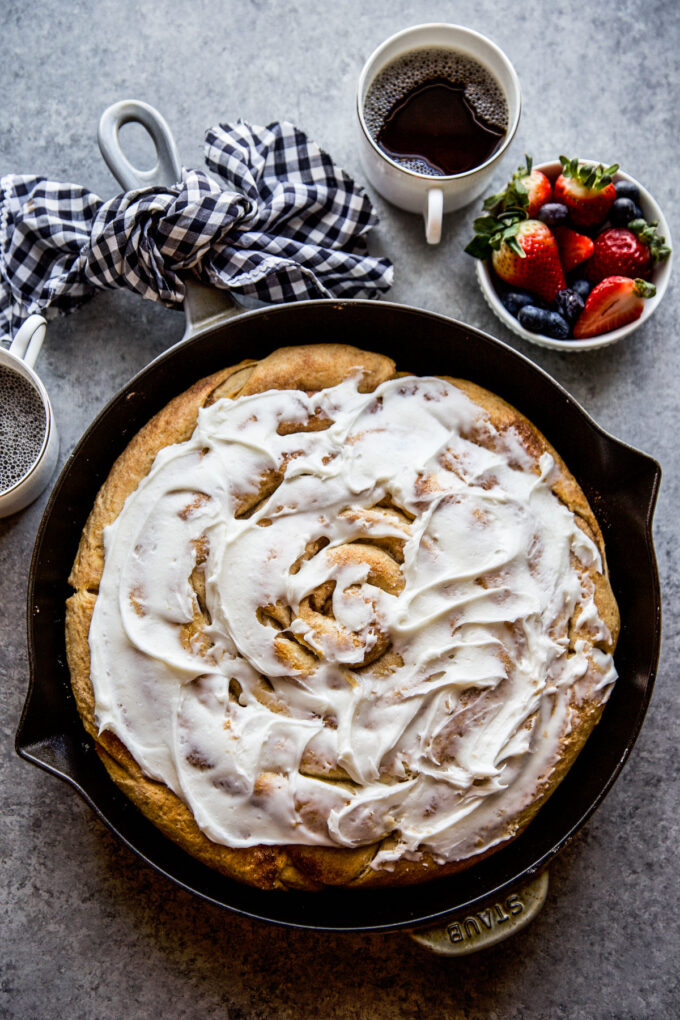 More Delicious Dessert Recipes to Enjoy: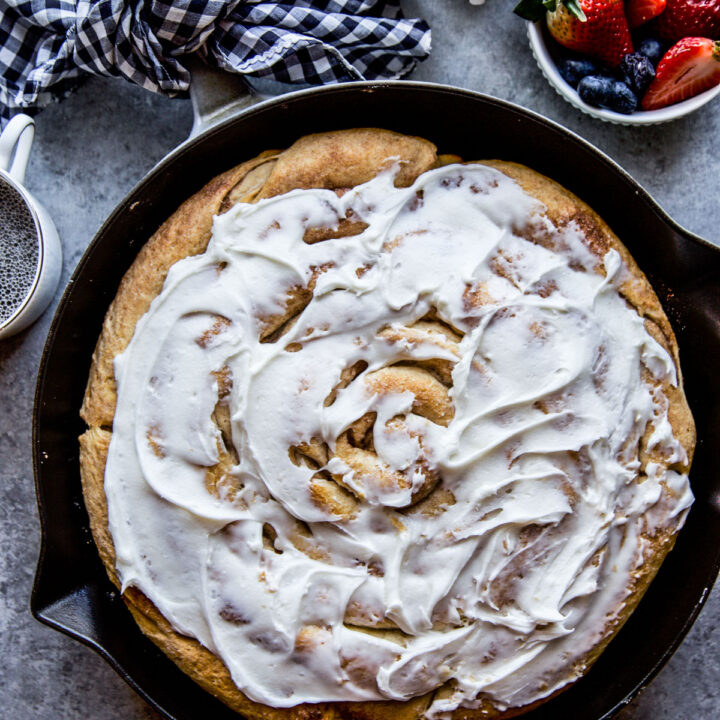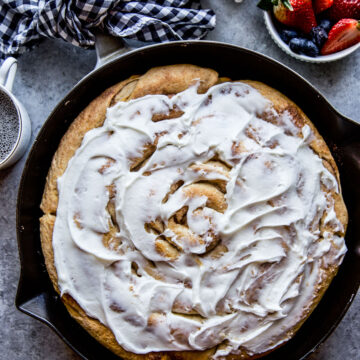 Giant Skillet Cinnamon Roll
Giant Skillet Cinnamon Roll is a quick and delicious way to make one giant cinnamon roll! Perfect for breakfast, lunch, or dinner and topped with a vanilla frosting! 
Ingredients
For the Cinnamon Roll:
3 to 4 tubes Crescent cubes
1/2 cup Unsalted butter, melted
1/2 cup Granulated sugar
2 tbsp Ground cinnamon
For the Vanilla Frosting:
4 tbsp Unsalted butter, room temperature
2 cups Confectioners sugar
2 tbsp Whole milk
1/4 tsp Kosher salt
1 tsp Vanilla extract
1 tsp Almond extract
Instructions
Preheat your oven to 350 degrees. Spray an 8 or 10-inch oven proof skillet with non-stick cooking spray. Next, in a small bowl combine the granulated sugar and cinnamon.

Lightly flour your kitchen counter. Take one tube of the crescent dough and unroll the dough onto the counter. Brush the top of the dough with melted butter and sprinkle with cinnamon-sugar.

Cut the dough in half lengthwise, then roll each section from long end to long end to make a long dough rope. Repeat process with remaining crescent dough.

Take one dough rope and roll it up into a piece to make a spiral. Place the spiral in the middle of the pan. Take the remaining dough rope pieces and continue the spiral pinching the dough together to connect. Use the remaining melted butter to brush on the top fo the giant cinnamon roll followed by more cinnamon sugar. Bake for about 30 minutes or until golden brown.

Once baked, remove from oven and let cool slightly before frosting! Serve and enjoy!

For the vanilla frosting:

In a stand mixer fitted with a paddle attachment, cream together butter and 1 cup of powdered sugar. Stir in the vanilla extract, almond extract, and kosher salt. Frosting will be thick. Add in the milk. Keep stirring as the frosting will start to turn runny. Now add in the remaining cup of powdered sugar. If too thick, add in more milk until desired spreadable frosting consistency is achieved!
Did you make this recipe?
Please leave a comment below and share a photo on Instagram with the hashtag #thecuriousplate!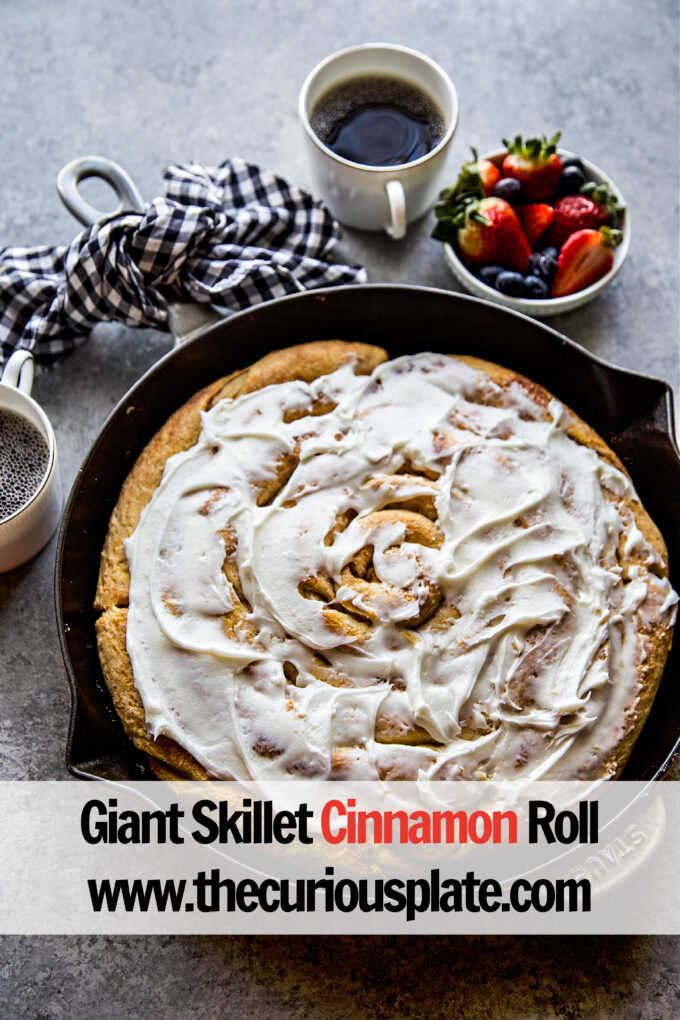 In summary, the Giant Skillet Cinnamon Roll is a versatile and scrumptious delight, ideal for breakfast, lunch, or dinner. Its generous size and decadent vanilla frosting make it a comforting treat.