Easy Chicken & Corn Stir-Fry
Easy Chicken & Corn Stir-Fry is a simple and delicious meal that is ready in 20 minutes!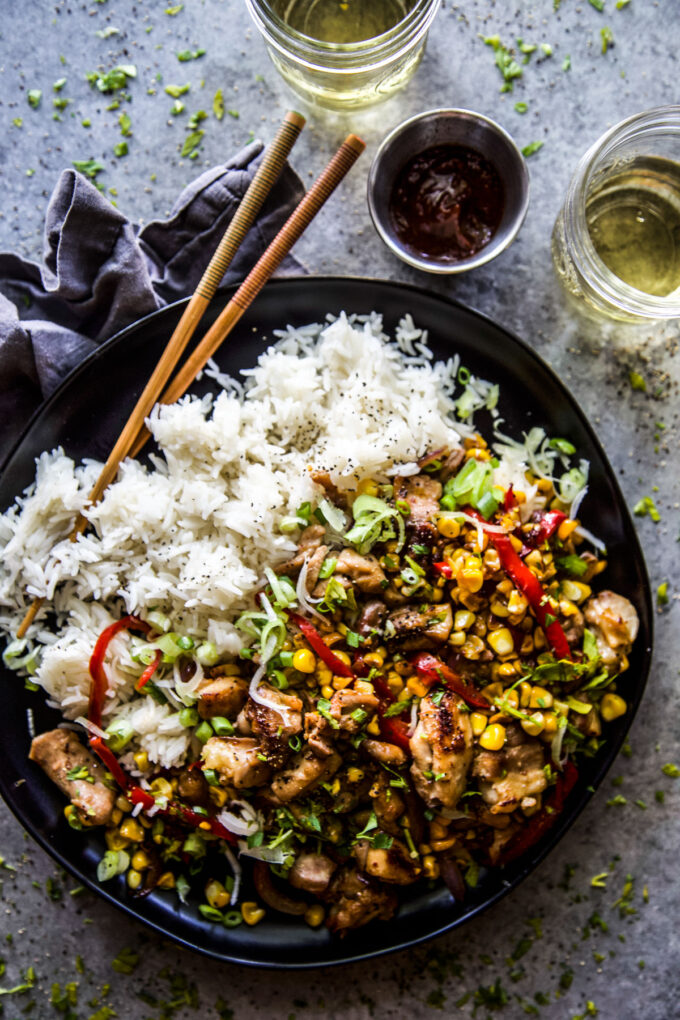 Dinner on the fly.
We all need a handful of recipes that require only a few ingredients, but still pack flavor. Which is why I'm a big fan of chicken and veggies.
Don't yawn just yet.
This Easy Chicken & Corn Stir-Fry will be on your dinner table rotation all year round. The simple sauce, a mixture of oyster sauce, sesame oil, and rice vinegar, make this meal reign supreme. Did I mention it only takes 20 minutes to make?
Alright, start your timer!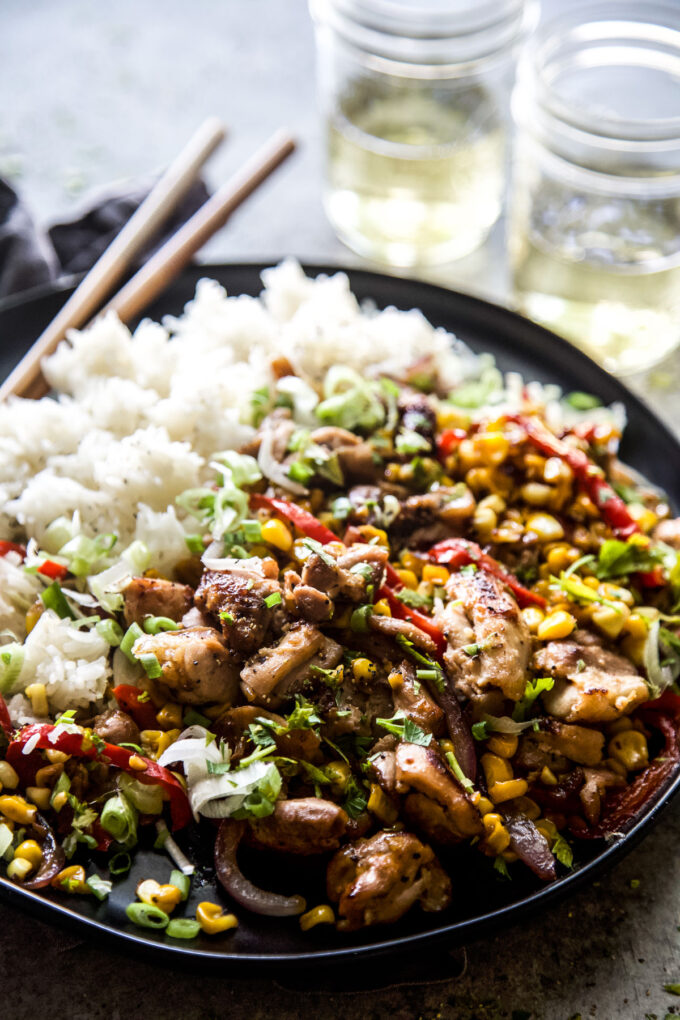 What's in this Easy Chicken & Corn Stir-Fry?
When it comes to weeknight meals, you need something quick, fast, and in a hurry. This Easy Chicken & Corn Stir-Fry will meet your needs in terms of nourishment, but still packs a lot of flavor. You will need:
Chicken thighs
Fresh or frozen corn
Oyster sauce
Toasted Sesame Oil
Rice Vinegar
Red Onion
Red Bell Pepper
Rice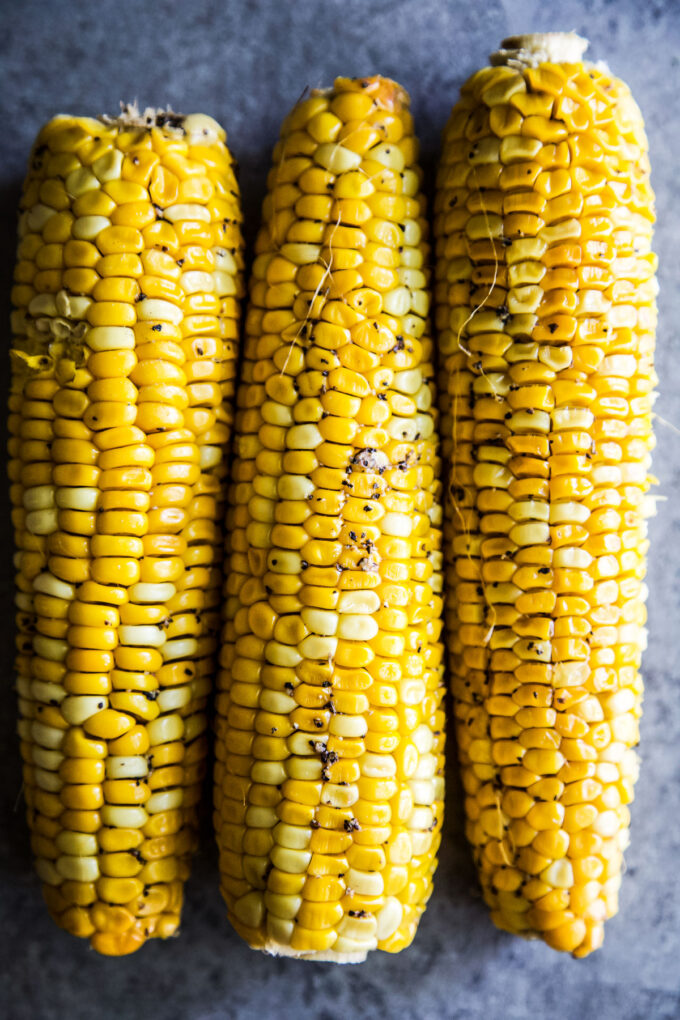 Tips to Make Easy Chicken & Corn Stir-Fry:
1) Corn. If you have leftover grilled corn I would highly recommend using that. BUT! If you are in a hurry, defrosted frozen corn works well too!
2) Chicken thighs. I personally love chicken thighs because they have so much flavor. However, if you want to keep things lean you can substitute with chicken breasts. Also, if you want to try using flank steak that would be a delicious option as well!
3) Veggies. I used red bell pepper and red onion in this dish. You can certainly swap out for kale, spinach, mushrooms, etc. This dish is a great way to use up ingredients in the fridge.
4) Oyster sauce. Don't be scared of the name. It actually doesn't taste like oysters. Basically oyster sauce tastes like a deep soy sauce that brings umami flavors to a dish!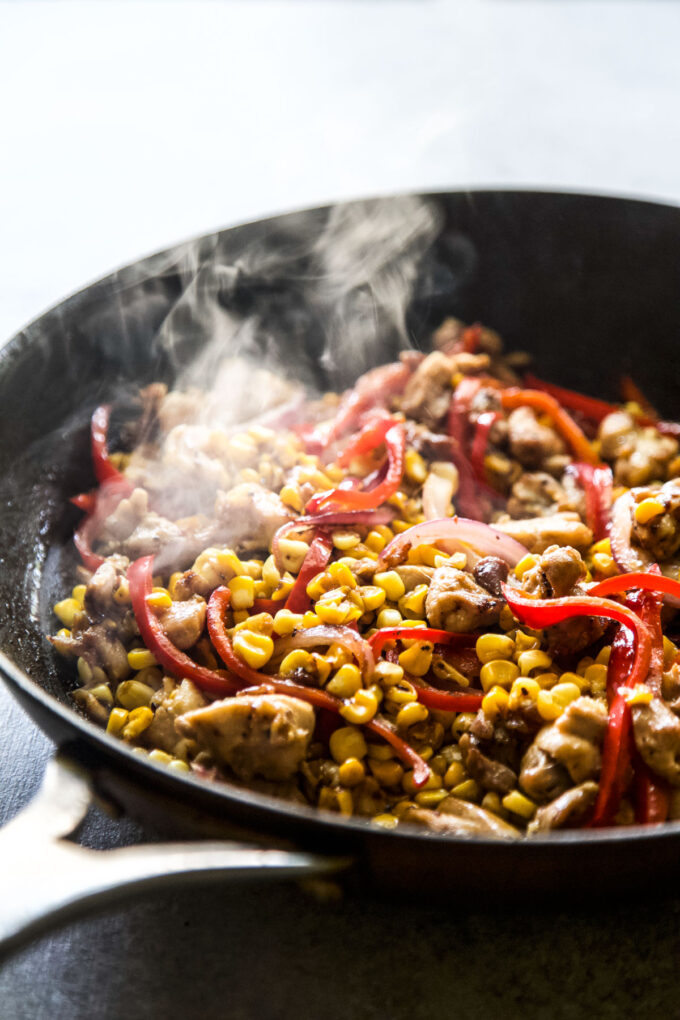 Frequently Asked Questions:
Can I make this ahead of time?
Yes! This whole dish can be made on Sunday to be enjoyed all week long. Leftovers will keep in the fridge for up to a week!
Can I make this vegetarian?
You bet! I would substitute the chicken with tofu.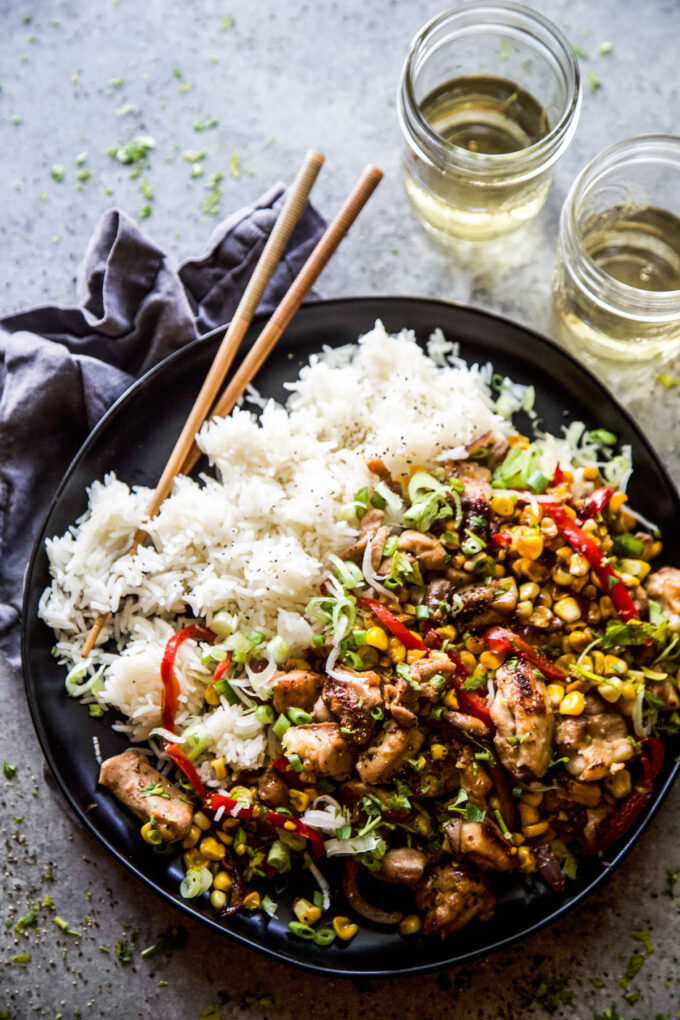 More Delicious Corn Recipes to Try: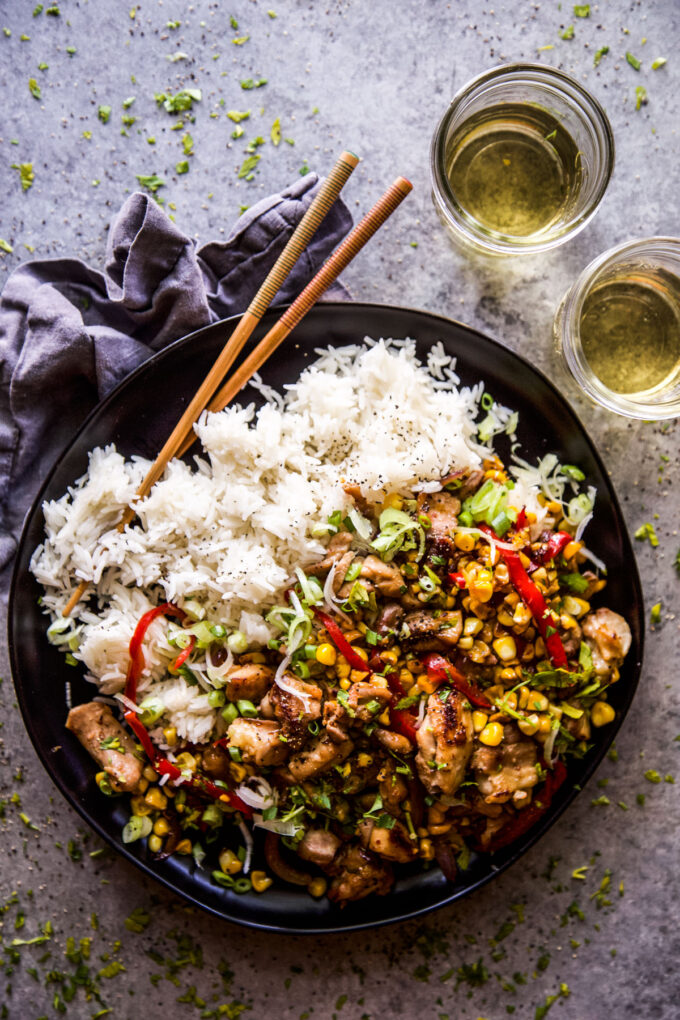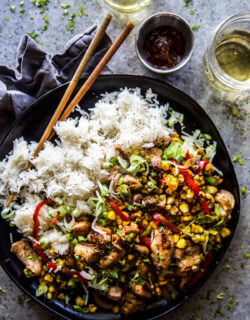 Easy Chicken & Corn Stir-Fry
Easy Chicken & Corn Stir-Fry is a simple and delicious meal that is ready in 20 minutes! 
Ingredients:
3 tbsp oyster sauce
1 tbps unseasoned rice vinegar
1 tsp toasted sesame oil
1 lb boneless, skinless chicken thighs, cut into 1-inch cubes
2 tbsp all-purpose flour
1/4 cup vegetable oil, divided
1/3 red onion, sliced
1 red bell pepper, sliced
4 garlic cloves, minced
1 tbsp fresh ginger, finely minced
1/2 tsp Aleppo-crushed peppers or red pepper flakes
3 ears of corn, grilled or defrosted if frozen, kernels cut from bobs
white rice, for serving
fresh parsley chopped, for garnish
salt and pepper to taste
Directions:
In a small bowl, combine together the oyster sauce, rice vinegar, sesame oil, and 2 tbsp water in a small bowl.
In a medium mixing bowl, combine the chicken thighs, salt, pepper, and cornstarch. Next, preheat a large skillet to medium-high heat and add 2 tbps vegetable oil. Cook the chicken for about 6 minutes or nearly browned and cooked through.
Next, add in the red onion, pepper, garlic, ginger, Aleppo-crushed peppers, and remaining 2 tbsp of oil. Continue to cook until the vegetables have softened, about 2 minutes.
Add in the corn and toss until tender. Pour in the reserved oyster sauce. Mix and continue to cook until reduced to a glaze. Season with salt and pepper as needed.
Serve stir-fry with rice and chopped parsley or cilantro.
All images and text ©