Spinach-Yogurt Dip with Fried Mint
Spinach-Yogurt Dip with Fried Mint is a tasty and healthy dip made with Greek yogurt, fresh spinach, garlic, and topped with fried mint!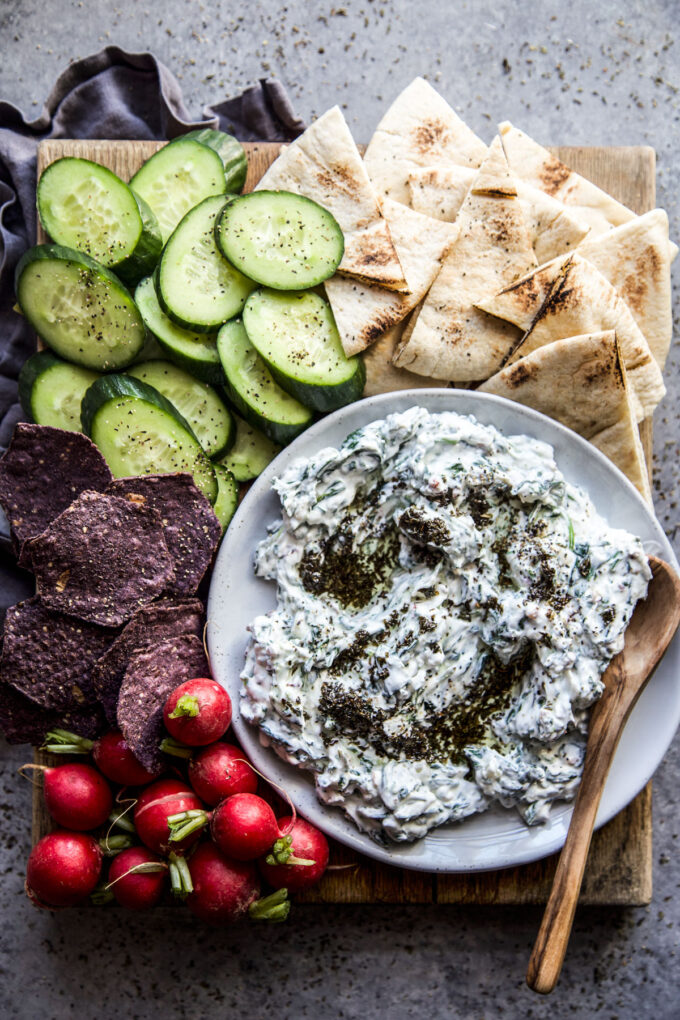 Raise your hand if you like the classic spinach-artichoke dip?
I mean, it's always a crowd pleaser.
However, I feel like we need to jazz things up a bit and bring that classic dip into the modern age. Meet the updated version: Spinach-Yogurt Dip with Fried Mint.
Not only is this dip bursting with flavor, but it's quite easy to assemble. Which is fabulous when you have a craving or need to serve a spread to a crowd quickly. Serve with any kind of dippers you like and enjoy.
Ready to get dipping???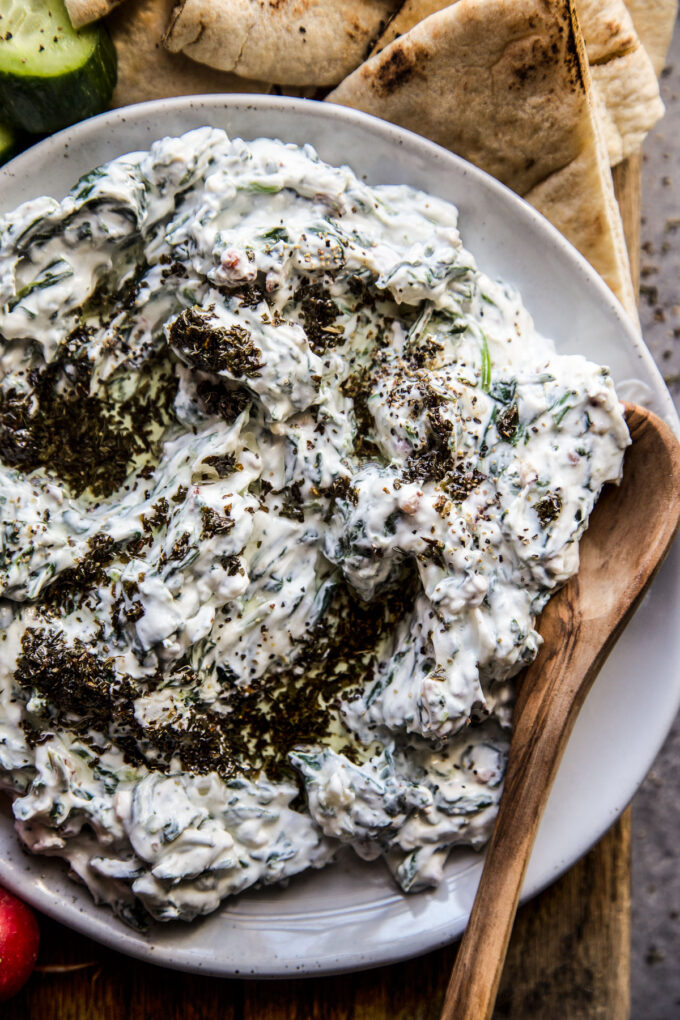 What's in this Spinach-Yogurt Dip with Fried Mint?
When it comes to assembling dips I like to keep the ingredient list simple. Because in most cases I'm making a dip for an impromptu gathering or have a random craving. For this recipe you will need:
Walnuts
Spinach
Garlic
Olive oil
Greek Yogurt
Lemon juice
Dried mint
Plus, all the dippers!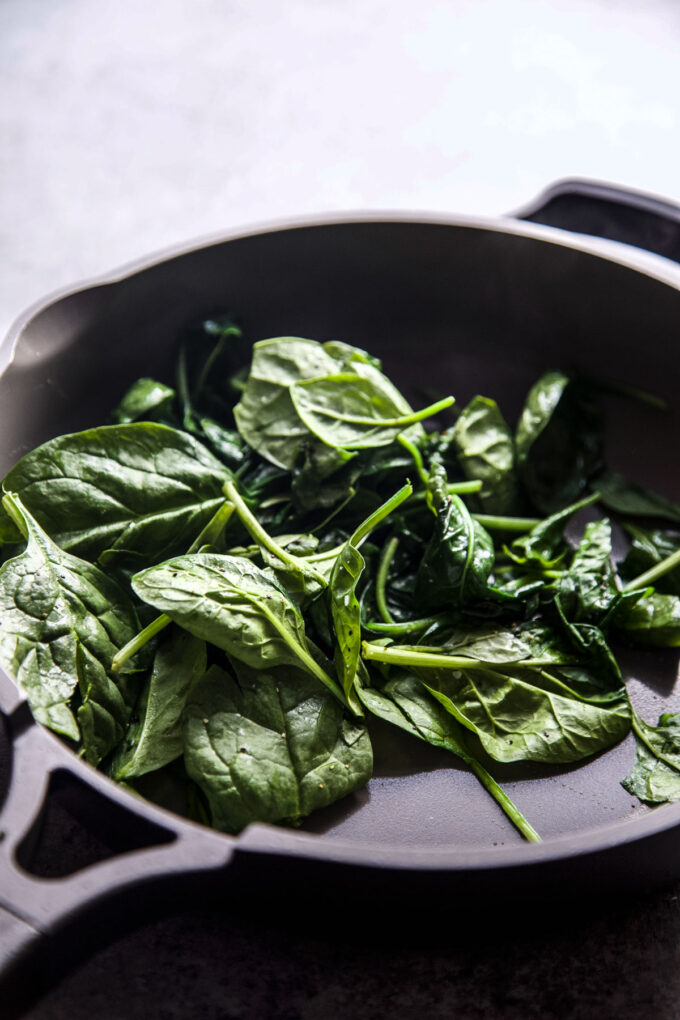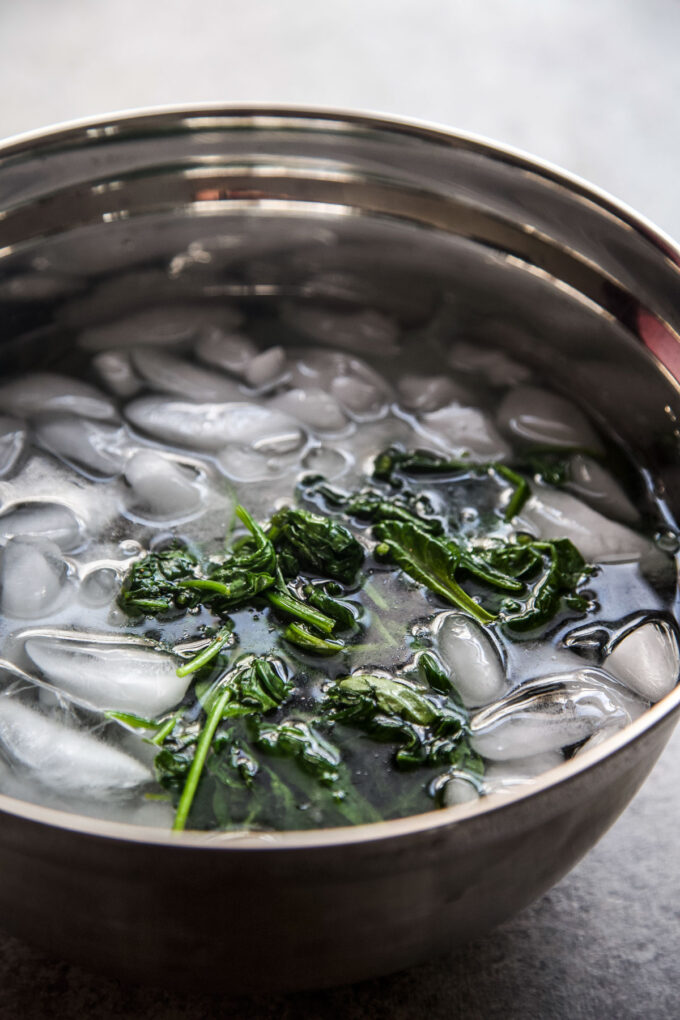 Tips for Making Spinach-Yogurt Dip with Fried Mint:
Greek yogurt. Any plain variety of Greek yogurt will do!
Dried mint. If you can't find dried mint at the grocery store, you could try dried basil. Also, fresh mint would also be an option, it just won't be as pronounced in flavor as the dried mint.
Spinach. I like to use fresh spinach in this recipe only because it's quicker to use. However, you can always substitute with frozen spinach.
Dippers. Literally the best part of making a dip in my opinion. For this recipe I like to use pita bread, cucumber, radishes, tomatoes, etc. to keep things vibrant!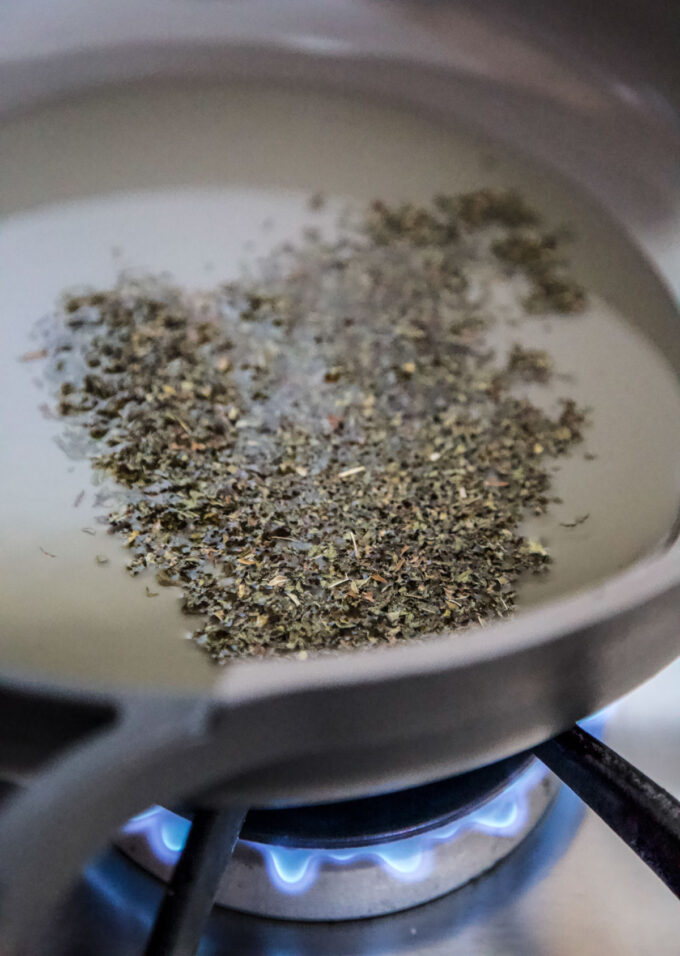 Frequently Asked Questions:
Can I use frozen spinach instead of fresh?
Yes! Just make sure the frozen spinach has been completely thawed and all the water has been squeezed out prior to add to the mixture.
Can I used basil instead of mint?
Sure! I would do the same cooking process with mint and just replace with basil instead.
I'm not a fan of walnuts, what's a good substitute?
I would try using pistachios!
Any chance you can make this dairy free?
You bet! I would sub the Greek yogurt with cashew yogurt.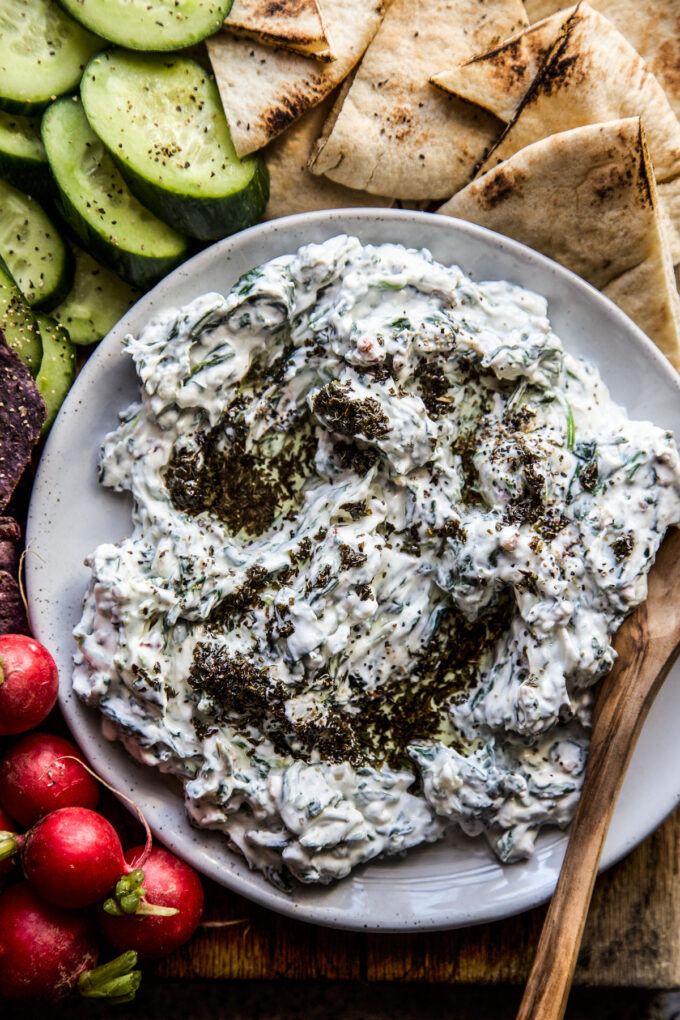 More Delicious Dips to Enjoy: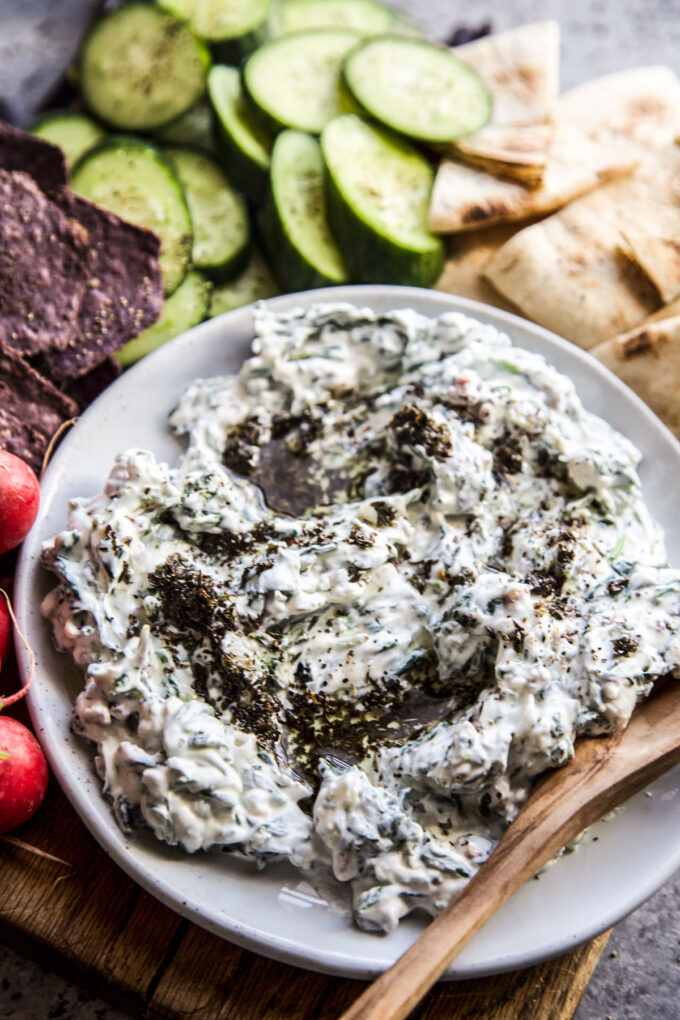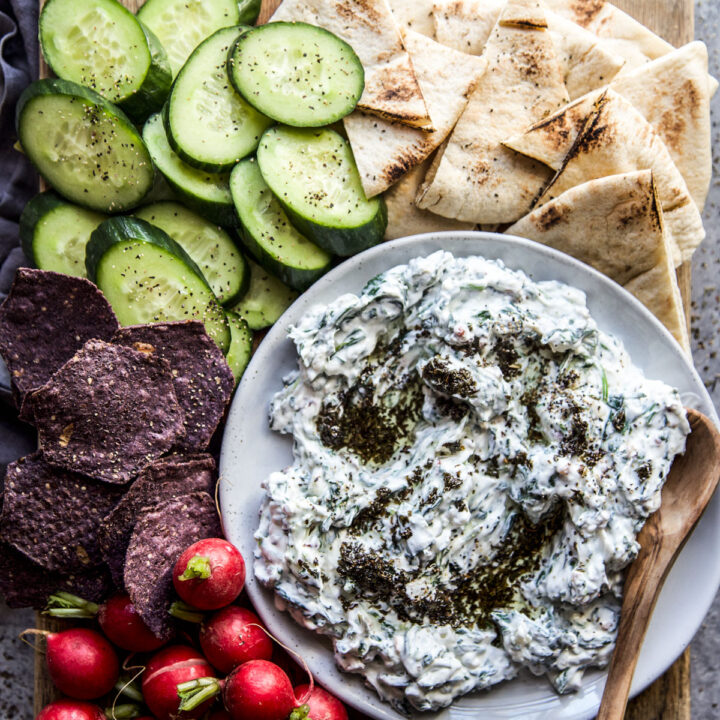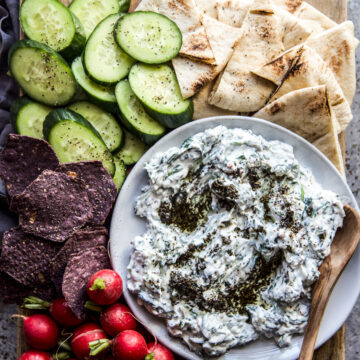 Spinach-Yogurt Dip with Fried Mint
Spinach-Yogurt Dip with Fried Mint is a tasty and healthy dip made with Greek yogurt, fresh spinach, garlic, and topped with fried mint! 
Ingredients
1 cup Walnuts
8 ounces Fresh baby spinach (10 cups)
6 tbsp Olive oil
1/2 cup Yellow onion, chopped
2 garlic Cloves, minced
2 tbsp Dried mint
3 cups Plain Whole Greek yogurt
1 tbsp Fresh lemon juice
salt and pepper to taste
Radish, pita chips, cucumbers, for dippers
Instructions
In a medium skillet preheated to medium heat add the walnuts. Toss the walnuts in the skillet until golden brown about five minutes. Remove from skillet and set aside.

In the same skillet add a tablespoon of olive oil to the skillet. Add in half of the spinach and cook, stirring until mostly wilted. Place the wilted spinach in a bowl full of water and ice to stop the cooking process. Repeat process with remaining spinach.

Next, drain and squeeze the spinach. You will want to take a towel and squeeze out as much liquid as possible. Take the spinach and finely chop it.

Wipe out the skillet that you cooked the spinach in and preheat that skillet to medium heat. Add in 2 tbsp of olive to the skillet, onion, and garlic. Cook the onion and garlic until softened about two to 3 minutes. Transfer the mixture to a small bowl.

In the same skillet as you cooked the onion, add in the rest of the olive oil. Bring the skillet to medium heat and then stir in the dried mint. Remove the skillet from the heat and pour the mixture into a small bowl and season with salt and pepper.

Lastly, in a large bowl combine the yogurt, lemon juice, onion mixture, half of the toasted walnuts, and reserved spinach. Season with salt and pepper. Place the spinach-yogurt mixture into a serving bowl and top with fried mint and the rest of the walnuts. Serve with dippers and enjoy!
Did you make this recipe?
Please leave a comment below and share a photo on Instagram with the hashtag #thecuriousplate!